Fairview highlighted ahead of fourth annual Fairview School Barbecue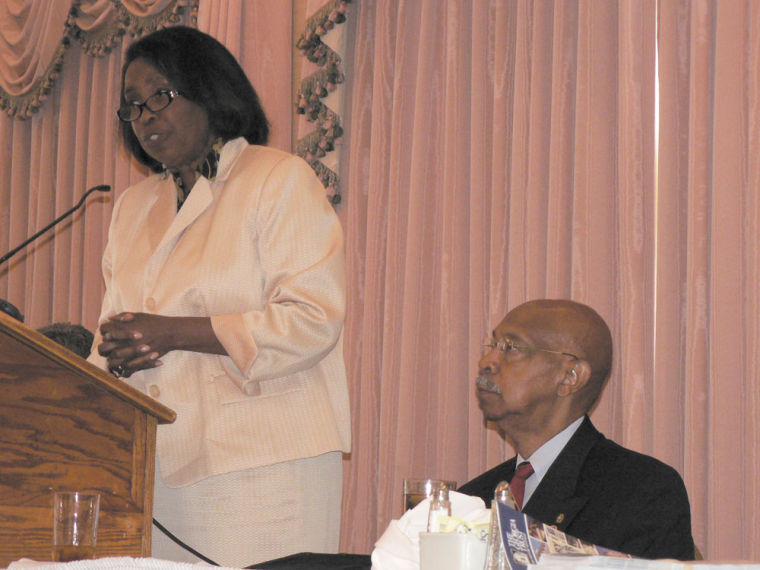 A local organization is working with different historic preservation groups to turn a site once ruled by kudzu and vines into a new center for the community to be proud of and teach future generations.
Joyce Perdue-Smith, chair of the Fairview-E.S. Brown Heritage Corp., spoke to the Rome Rotary Club on Thursday about her group's work to restore the historic Fairview School in Cave Spring, of which her late father, Eugene Perdue Sr., was a principal.
After serving as an education center for Floyd County's black youth from 1924-1968, the site contains only the first-grade building, as all other buildings have been demolished.
"All I could see was kudzu," said Perdue-Smith of the first time in 2009 someone showed her where the school was, noting the twinkling of the tin roof in the sunshine.
"As all rare finds, when you find a jewel, there is a process of uncovering what you have."
With plans in place to restore the building and repurpose the site as an interpretive center to host students and community classes, the group continues to seek support.
To assist financially, Perdue-Smith and her staff are hosting the fourth annual Fairview School Barbecue today to benefit the Fairview School Restoration Project.
Pork and chicken plates are $10, a rack of ribs is $25, and whole Boston butts are $30. For more information call 706-232-0975.
"I think the school still has enough of an impact to reach the children of this century," Perdue-Smith said.
Also speaking to the local club Thursday was Mark McDonald, president and CEO of The Georgia Trust for Historic Preservation, and Sheffield Hale, a member of the Board of Trustees of the National Trust for Historic Preservation.
The Georgia Trust listed the Fairview School as one of their ten "Places in Peril" in 2011, and McDonald said they were honored to have the Fairview-E.S. Brown Heritage Corp. as a partner
"The thing that makes a project successful is really not the Georgia Trust listing," McDonald said. "What really makes a difference is if there is a strong local partner or not."
To help the Fairview-E.S. Brown Heritage Corp., go to their website at www.fairviewbrown.org for more information or send donations to 3 Central Plaza, Box 147, Rome, Ga. 30161.