Even as temperatures rise above freezing children may still be in danger, dress warmly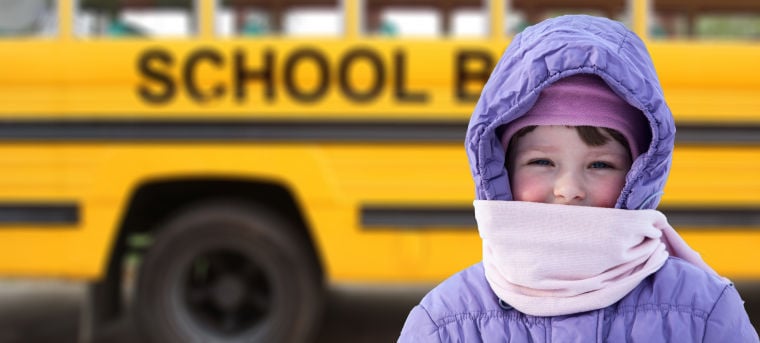 While temperatures are expected to rise tomorrow, children will still face very cold temperatures as they gather at bus stops, prompting the need for extra precautions to combat freezing conditions.
Floyd pediatrician Dr. Anne Lule says that children are at a higher risk than adults when going outside during the winter.
"Children's bodies are different than ours," she said. "They don't maintain the reserve energy to burn during weather like we've experienced over the last few days."
One of the reasons children are more susceptible is because they may not realize the effect cold temperatures have on their bodies.
"Kids don't always notice the change in their bodies, especially if they're busy playing outside," Dr. Lule said. "It's best if children stay indoors when temperatures fall, but that's not always possible. As parents, it's our responsibility to make sure they're equipped to be safe if they must be outside."
Dr. Lule offered the following tips to make sure children are safe when they are outside during extremely cold weather conditions:
• Children should dress in layers to keep moisture away from their skin. Wet layers should be taken off so children stay warm and dry.
• Dress children in fabrics that will help keep moisture away from the skin. Examples include fleece or wool. Avoid cotton clothes, which will not insulate once they absorb moisture.
• Make sure children wear a hat, which is key to retaining up to 60 percent of their body heat.
• Ears, nose, hands and feet should always be covered and kept as warm as possible.
• If playing outside, make sure kids come inside periodically to warm up.
• Once inside, children should immediately remove wet clothing and warm up.
Dr. Anne Lule is a provider with the Floyd Primary Care network, which offers care to residents in a six-county area of Northwest Georgia and Northeast Alabama, offering services in 29 primary care offices.