College leaders say finances are still a challenge for students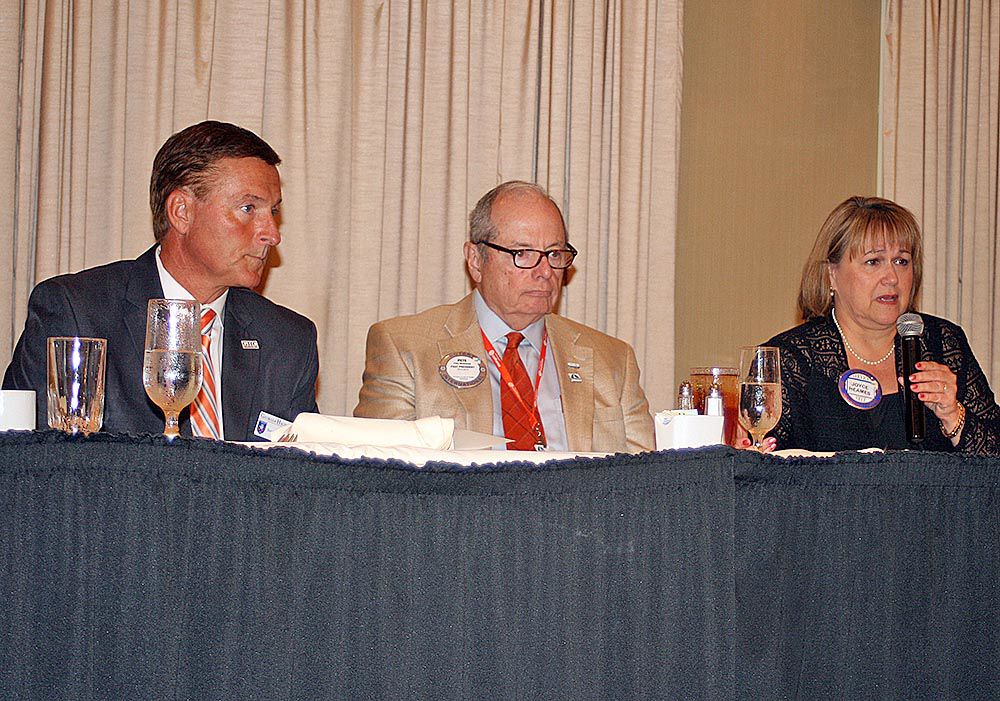 "We are always trying to help students understand the return on investment. If you make this investment in yourself to get the education you need it will pay off in the long term," Heames said. She said a student could complete the Masters of Business Administration program at Berry for less than $20,000.
"We all know what we read in the newspaper about college debt," McDonald said. He said the HOPE grants and HOPE scholarships funded by the lottery have been beneficial to students who choose public colleges in Georgia. He also spoke of the HOPE Career Grant that pays 100 percent of the tuition for a number of programs in high tech areas such as automation, IT, industrial systems, electric and the medical area.
McDonald also said the dual enrollment programs can save students thousands of dollars. He said GNTC leads the state technical college system in the number of dual enrollees — some 2,300 last year — and forecast that number will be even higher this fall.
GHC President Green explained that a student at his college can complete a four-year degree for $16,000 or get an associate's degree for $8,000. He pointed out that 20 percent of the students who cannot pay their bill at the time school starts are choosing not to go to college when faced with charges of $300 or less.
"When they go home and say to mom and dad 'I need $150 bucks to pay the rest of my tuition,' mom and dad don't understand college, they say 'Why don't you just go out and get a job?'" Green said. He echoed Heames sentiment saying that they are constantly stressing the importance of getting a degree, not just to students, but to their families.
McDonald said 65 percent of his students are first generation college students.
McDonald and Green told the civic leaders the greatest value of the colleges in Rome and Floyd County, including Shorter University which did not have a representative on the panel, was that their institutions have been critical to the preparation of the local workforce.
Heames said the fact that students had the opportunity to get a seamless education in Rome may be the biggest value for local students. They have the opportunity to attend either of the quality, primarily two-year institutions and then go on to either of the four year schools at Berry or Shorter.
"There is a difference between training and education. Training gives you the opportunity to acquire specialized skills at an operational level, but education gives you the opportunity to have a systematic, long-term, lifelong opportunity to have growth and potential. We bring those to you at any level that you want," Heames said.