Cancellations and closings for Friday Jan. 6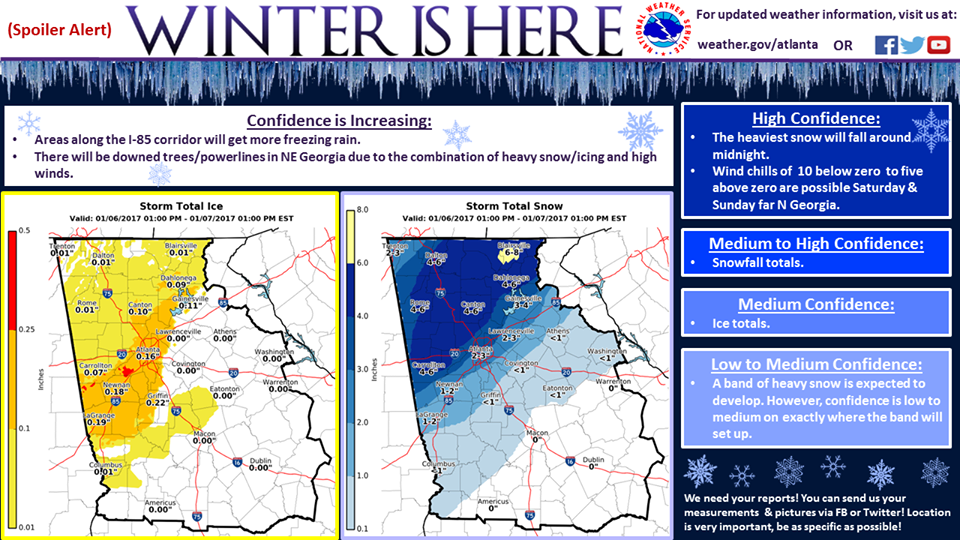 All GHC campuses will close at noon on Friday. All events for Saturday have been cancelled, due to weather concerns. The Women's Basketball Game vs. Snead State has been rescheduled for Sunday Jan. 8 at 2 p.m.
GNTC closing classes at noon. All activities after noon are also cancelled.
Coosa Valley Credit Union locations will close at 2 p.m. today.
Boys and Girls Club, both locations, are closed Friday.
The YMCA will cancel all group fitness classes, childcare, basketball games and pool activities beginning at 1:30 p.m. today. The cardio room, weight room, locker rooms and racquetball and basketball courts will remain open until 9 p.m. All classes, basketball games, pool activities and childcare have been cancelled for Saturday as well.
Georgia Department of Labor's office in Rome will close today, Friday, Jan. 6, at 1 p.m.
Harbin Clinic Immediate Care will be closing at 5 p.m. Friday and will open no earlier than noon tomorrow.
From the Rome-Floyd rec department: Due to inclement weather, all basketball games for Jan. 6th and Jan. 7th have been cancelled. Rescheduled times are to be determined.
Additionally, there will be no gymnastics activities the evening of Jan. 6th, and any other activities at Parks and Recreation facilities are likewise cancelled.
According to Floyd County Schools Assistant to the Superintendent Tim Hensley, Floyd County Schools will dismiss early Friday, starting at 11:30 a.m. 
According to Rome City Schools Interim Superintendent Lou Byars, there will be an early dismissal Friday starting at 11:30 a.m. for elementary schools and at noon for middle and high schools. 
Byars said buses will run their normal routes and will allow kids to get home before the snow storm is expected to hit.
Floyd County Schools cancelled all after-school activities Friday and activities for the weekend because of the threat of snow. Rome City Schools cancels after-school activities beyond 4 p.m. and for the weekend. A decision about classes on Friday is expected to be made early Friday morning.
Darlington School will dismiss students at noon today and all after-school activities have been cancelled. There will be no Extended Day and all day students must leave campus at noon.
St. Andrew's Anglican Church, 42 Ash Street, is moving the start time for today's Epiphany mass to 2 p.m. For more information call 706-506-1241.