Blue Angels to put Richard Russell Airport on the map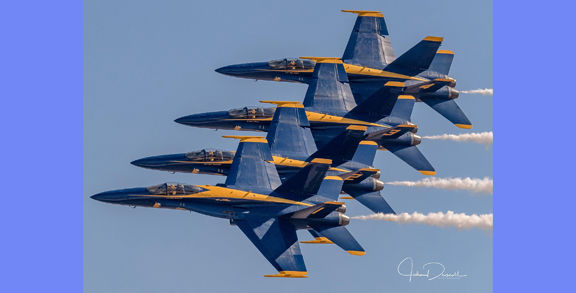 Cowman told members of the Rome Floyd Chamber Economic Development committee that his Wings Over North Georgia Air Show Oct. 21-22 could, with good weather, have an $8 million to $10 million economic impact on the Rome area. "The Blue Angels are the rock stars of this industry," Cowman said Friday.
"We're projecting 75,000 plus (attendees) and that number could go drastically higher with good weather," Cowman told the Chamber group. He said the event has had an average economic impact of $3.6 million from 2012 through 2016 and forecast the impact to be double that with the Blue Angels headlining the show.
Cowman said the aircraft that would be participating in the show this year could easily purchase as much as 125,000 gallons of fuel from the airport over the course of rehearsals and the shows Saturday and Sunday.
Cowman said after several years of experimenting with sanctioned barbecue competitions and concerts, in conjunction with the air show, that his teams has settled on a formula that is focused on RV camping at the airport coupled with promotion of a general aviation fly-in.
Chamber President Al Hodge told the panel that work to enhance the airport has been a key issue for the Chamber. The 2013 special purpose, local option sales tax package included funding for a 1,000 foot runway extension.
The 2017 package that will be voted on next month includes funds for a new 13,600 square foot aircraft hangar. The hangar would provide overnight protection from the elements for corporate aircraft in Rome or aircraft that would be in Rome for an extended period of time but not need a long term commitment.
Many corporate pilots have to bring clients to Rome and then fly on to airports in the metro Atlanta area to hangar aircraft as part of insurance regulations.
Proponents of the project also indicate the hangar, since it would be owned by the county, could potentially be converted to industrial space for the right tenant at some point in the future.