Virginia Summer, a worker at the Davies Shelter, approaches the person and asks if they'll take a survey. The blanketed person declines and Summer asks if they'd like some warm clothes.
A scarf changes hands and the volunteer moves on, logging the information in her smartphone.
It's right before the weather turned bitterly cold last week. On Monday volunteers, including shelter workers Brian Harris and Katie Smyth, approach a few women on North Broad Street and tell them they're working on a homeless count, and passing out warm clothes in anticipation of the cold snap.
They introduce themselves saying they're conducting a Point In Time Homeless Count and ask the women if they'd like to participate. The clothes are free, regardless of participation.
One woman says yes and asks politely if they have anything with a hood. The volunteers go searching through jackets and warm clothes.
"I love your hat," Smyth says to a woman wearing a pink hat. Her face brightens and they talk. Just like anyone else on any given day.
"Where are you going to be sleeping tonight?" she asks, the first of a series of questions on her app.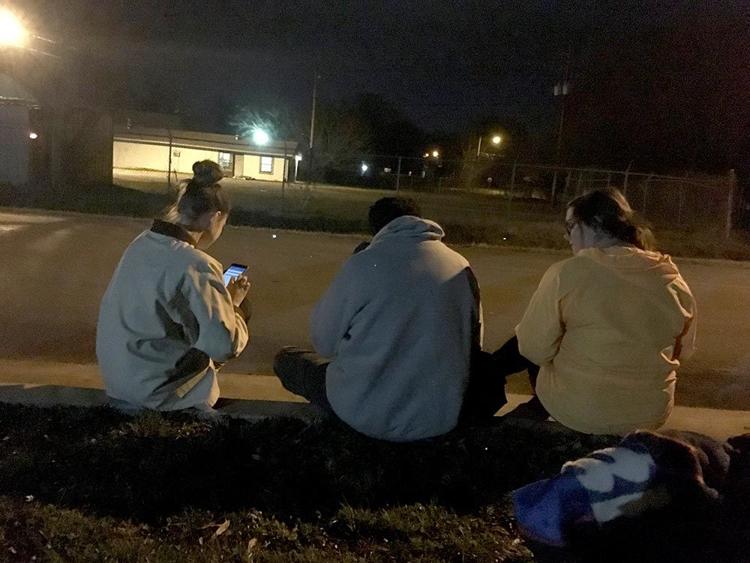 Several of these groups, about 30-40 individuals, worked to conduct the count throughout this past week. The PIT homeless count is attempting to determine where a person was sleeping on the night of Jan. 29. According to the Georgia Department of Community Affairs, the survey has two distinct parts — the unsheltered count and sheltered count.
Essentially, the unsheltered count is attempting to determine how many people are staying in a car, park, abandoned building or another place not "designed for or ordinarily used as a regular sleeping accommodation for human beings."
The sheltered count is for people who are staying that night in an emergency shelter or transitional housing or temporary living arrangements.
Hard count versus estimate
In the 2017 homeless census published by the DCA there were an estimated 37 unsheltered homeless persons and 25 sheltered homeless persons in Floyd.
This was an estimate based on counts done in larger metropolitan areas, Smyth said. There wasn't a count done in Floyd County at that time.
From 2013 to 2017, estimates of Georgia's homeless population dropped by approximately 25 percent. In 2013 there were an estimated 16,000 homeless people in the state, decreasing to an estimated 10,000 in 2017. Again, those numbers are derived largely from a statistical model.
Until this past week, the last PIT-type counts in Floyd County were conducted in September 2008 and January 2009.
In September 2008, volunteers counted 72 sheltered homeless and 107 unsheltered homeless in Floyd County. In January 2009, workers and volunteers took part in the PIT count partnering with the DCA and counted 103 sheltered homeless and 200 unsheltered homeless.
Those counts, along with the current count, did not factor in people who were in transitional housing or precariously housed, meaning they could lose their home soon.
Again, the DCA estimated there were approximately 62 homeless — sheltered or otherwise — in Floyd County in 2017. Volunteers this past week counted approximately 200 unsheltered homeless. They also counted 39 sheltered homeless.
Doing the math, that's a 385 percent increase from that 2017 estimate. Or looking at the two PIT counts, 10 years apart, it's comparable.
Between 2007 to 2009 the city attempted to find the spark to spur private groups into long-term action regarding homelessness in our area, but that fizzled after a short time.
"It wasn't an issue we felt as a local government we could solve," Rome Community Development Director Bekki Fox said. "It would take a community effort."
The city attempted to lead groups into a collaborative community effort and instituted two PIT counts, partnering with the DCA on the January 2009 count.
"We haven't participated in a Point In Time count since that time," Fox said.
The count determines where state funding goes. With lower estimates of those in need, Floyd County receives less funding.

When money comes to Floyd County from the state it helps provide affordable housing and mental health treatment — a win for everyone, William S. Davies Homeless Shelters Executive Director Devon Smyth said.
"We're not seeking DCA funds at all. We're administering (the Point In Time count) to make out community stronger," she said. "It can help how our community engages with homeless people as well as housing," Smyth.
Even with such a giving community, she said, they're still woefully short of not only alleviating the problem of homelessness, but also working to combat the factors which cause the problem.
Helping determine the actual number of people living in our community without a place to stay lets us know how to envision ways to help in the next five years, Smyth said.
"We can work to put systems together to make that change in our community," Smyth said.
A different type of 'homelessness'
Definitions of what is homeless change depending on what agency you speak with.
The PIT count defines homelessness differently than a school system does, but the issue is the same.
For instance, students are designated as functionally homeless if they move regularly. Some stay in hotels or often at the homes of different family members or friends, said Kirsten Thornante the assistant social worker and homeless liaison at Rome City Schools.
In Floyd County Schools there are approximately 297 students classified as homeless while that number is 230 for Rome City Schools.
Even if you argue that people have to live with the consequences of their actions, Smyth said, their children did not make those life choices. They didn't decide to not have a home or food.
"The consequences fall largely on them in ways they didn't choose," she said.
In a 2018 Feed America report, 22.7 percent — or 5,170 children — in Floyd County don't have enough access to nutritious food.
As a forecast for bitter cold weather loomed Monday night, a line of 15 or more people waited at the back of the Salvation Army to see if they could find shelter for the night.
The volunteers went to the area to see if anyone would be turned away. Normally the shelter only houses a certain number of people, but with the forecast they said they wouldn't turn anyone away that night.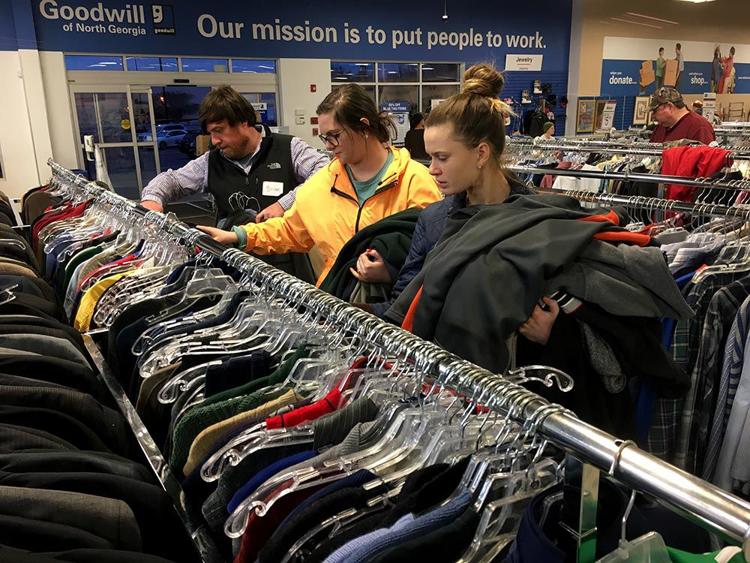 Corps Officer Capt. Jason Smith said the Salvation Army served over 11,000 meals in their nightly dinner service in 2018. They usually serve about 50 meals nightly.
Again referencing a 2018 Feeding America report, 14.1 percent — or 13,580 Floyd County residents — don't have enough nutritious food.
Just down the road, there's a car with stickers denoting multiple branches of the military. A person sleeping in the car, trying to stay out of the weather, answers PIT questions.
"How many nights have you stayed in a shelter this past year?"
"Have you ever served in the military?"
Group members lean in to the car attempting to block the wind as they ask questions. The person mumbles answers politely as the interview process continues.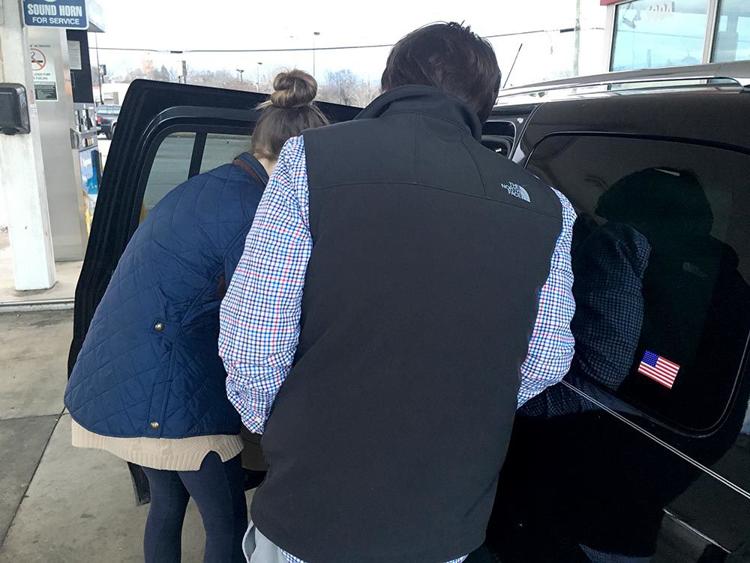 Later, after stopping at Goodwill and buying more coats, the group goes back to the Davies Shelter to get food. Harris said he was going to take it back to the person in the car.
When they leave the shelter, a man is sitting on the curb.
Summer and Katie Smyth go over to talk to him. He agrees to take the survey and said he's a retired musician.
"I picked a bad woman," he said. He lived in Polk County but they just didn't have any resources. So he ended up here.
As he answers questions it's obvious that as he talks about it he's feeling the answers. He's sad, tired, defeated and it seems to have been a long time since he's been anything but that.
It's getting colder so they give him a warm jacket. He doesn't have any socks on so group members get him some socks and then Smyth helps him put them on, without hesitation.
They talk to him about his life apart from the questionnaire and listen to his answers. The simplest of things, to listen and to show interest in what another person feels, seems to bring back a glimmer of hope, and as another guest takes him to the Salvation Army, he's smiling.