Armuchee teens, dad save 2 stranded at sea in Gulf of Mexico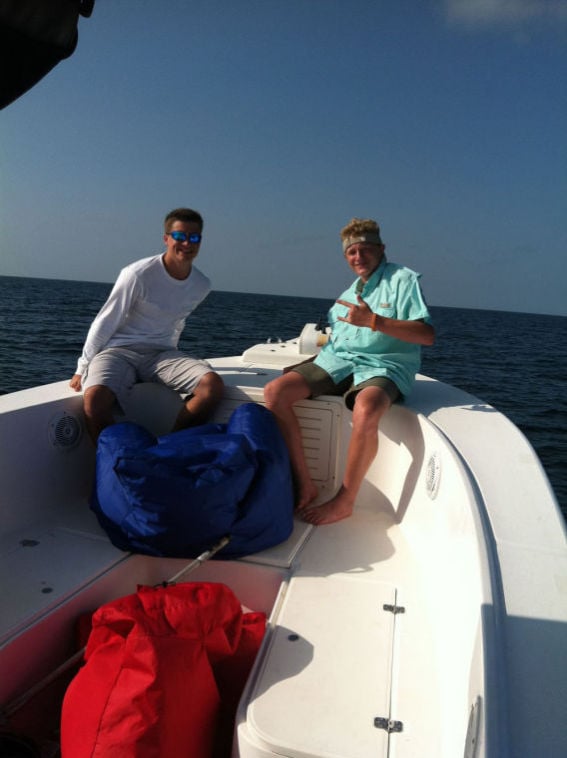 Two Armuchee teens and a father are credited with helping find two castaways in the Gulf of Mexico off the coast of Florida.
Thomas Reese was boating late in the day June 14 with his son, Thomas Reese Jr., and his son's friend, Hunter Wilkerson, son of Bob and Jennifer Brierly, when alerted to two missing men on a Jet Ski.
They had just arrived at St. George Island for a family vacation and the trio set out on the boat to make sure it was operational.
The younger Reese and Wilkerson, both 15 years old and Armuchee High School rising sophomores, were fishing when someone came by and asked if they had seen an overturned wave runner, the senior Reese said.
Later, he thought he spotted something in the water, took the boat out and found the overturned Jet Ski, but the two men that had been aboard were nowhere to be found.
Reese said he agreed to help in the search, although his boat was taking on water due to a faulty bilge and it was already about 6 p.m. The teens perched on the tower of Reese's boat to aid in the search.
"One of the boys yelled out, 'I think I hear something,' and I cut my engines to see if we could hear it and the waves had gotten worse," Reese said, adding the waves rolling 2 to 3 feet high. "We just kind of went towards the noise, went a little ways and then I cut the engines again and I started yelling and the boys started yelling again."
They heard again the missing men, but couldn't see them. A few minutes later, one of the boys spotted something.
Florida Fish and Wildlife Conservation Commission Officer Susanna Stephens said the men had been stranded in the water about two hours and were getting tired and thirsty as the sun began to set.
"It was real choppy that day and apparently the Jet Ski capsized and they rolled off it," Stephens said. "They told us they tried to hang on to it, and one guy said he couldn't swim, but he was wearing his life jacket, so they decided to let go of it and just hold on to each other. They kept drifting, drifting further and further away."
Another boat and marine patrol as well as rescue aircraft had joined the search by the time the teens spotted the men. The search would have been called off by sunset, according to Reese.
"Without (the teens) standing in that tower and having better hearing than all the rest of us, and being able to see better probably, we may not have found them. I was real proud of them," Reese said. "It's very gratifying. It's a good feeling. What I mostly proud of was not for myself, it was for the boys. I know that it was something that made them feel important and made them feel like they did something that was very worthwhile. They possibly saved two people's lives (and to me it) was a big deal. That's what made me the happiest, other than being able to participate and do something good like that."
The missing men were found about a mile off shore, Stephens said.
"Those two boys, they are who needs the accolades," Stephens said. "They were the ones up there on the tower, heard them calling out and spotted them. With it getting dark pretty quick, we didn't have a lot of time, so the two men were very, very lucky, and thank you to those two boys who found them."