Advocates play important role in fight against breast cancer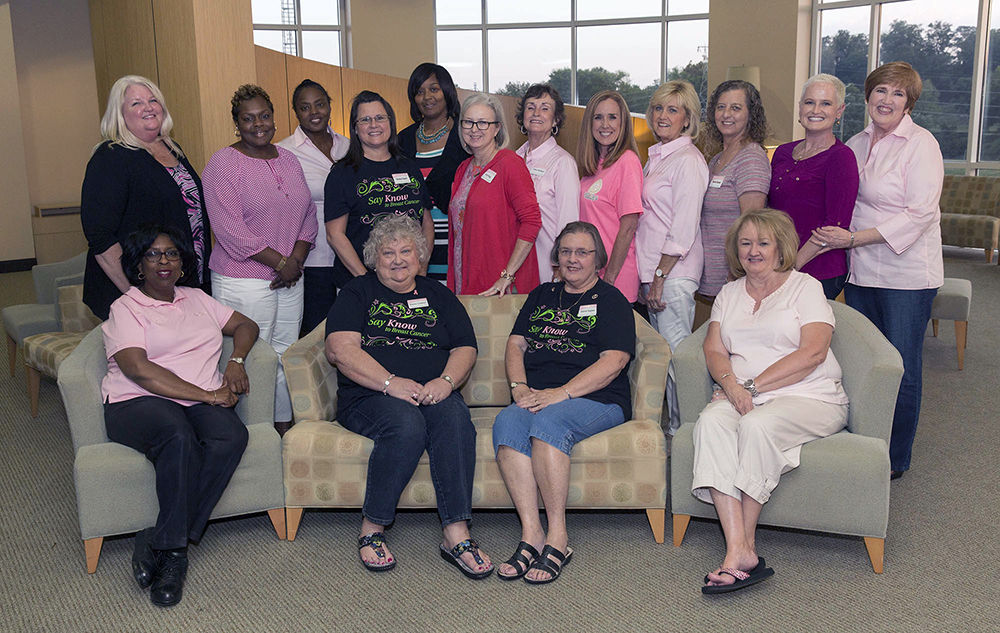 Aimee Griffin is quick to point to a dedicated, well-trained group of volunteers for playing a large role in the success of the Breast Center at Floyd.
"Building a comprehensive center, with the best in technology, staff and provider training and patient centered experiences, goes a long way, but truly engaging and inspiring the community is critical to changing the statistics," said Griffin, who is the director of the center. Part of the Floyd Medical Center health care system, the center is located on the third floor of the Harbin Clinic Dr. Tony E. Warren MD Cancer Center on the FMC campus.
When The Breast Center at Floyd opened its doors in October 2008, statistics indicated Northwest Georgia had both a higher breast cancer rate and a higher death rate from breast cancer compared to state and national averages.
The facility and staff was in place, but engaging and inspiring the community would be critical to changing the statistics. The Breast Health Advocate program was designed to do just that, Griffin said. Beginning with eight willing volunteers, custom designed education and two weekends of training, the program set out to reach women outside the walls of the medical community.
The advocates went into churches, civic clubs, arts and crafts fairs, meeting women wherever they were. They asked questions, provided education, separated myths from facts and helped women understand how they could take control of their breast health.
Rome's Diane Justice said the advocate program certainly impacted her family in a positive way. She said her husband, David, was diagnosed five years ago with breast cancer. He is doing well today thanks to a visit Diane made to a Breast Center booth at the Chiaha Harvest Fair.
Advocates at the fair had models that help people detect by feel what might be a cancerous growth.
Weeks later, David was sitting on his sofa at home next to Diane and she noticed he kept touching his chest. Diane checked it out and found a small knot the size of an English pea.
It was cancerous. David had a mastectomy and chemotherapy. He is healthy today and goes to his oncologist periodically.
"Learning what I did from that little model probably saved his life," Diane said. "I am very thankful for learning what I did."
Recruiting and training new advocates annually, the Breast Health Advocate team has grown to 46 women. The group is made up of both breast cancer survivors and women who have never been diagnosed, but they all share a common passion to advocate for breast health.
Each advocate commits to undergo 15 hours of initial training with The Breast Center's clinical team. They attend quarterly meetings for educational updates and activity planning.
They also commit to be a voice in their own community and social groups, encouraging breast health and annual screening.
October is National Breast Cancer Awareness month, long associated with the color pink. That color can be seen everywhere — at the grocery store, social media, network television and football stadiums.
For The Breast Center and the Breast Health Advocate team, it is a busy month. This year will find advocates at high school football games throughout the region and at several community fairs throughout the month. The advocate team will provide breast health education, help women understand their personal risk for breast cancer, and help women schedule appointments for mammography and clinical services. In total, the advocates will log more than 300 hours in the community across 20 separate events this month.
Efforts don't stop after October. The Breast Center's mission is a year round effort. Advocates can be found throughout the year working to encourage breast health across Northwest Georgia logging over 500 total hours each year in the community.
"We knew when we opened nine years ago that October would be important in our overall strategy to reach the community, but we also knew that working all year long would be required to truly improve the statistics for our region," Griffin said. "Every event we attend, we know there is a least one person we were meant to speak with — and as we pack up, we know we made a difference by reaching at least one person."
For more information about the Breast Health Advocate program or to volunteer as an advocate, contact Vicki Seritt at 706-509-6232 or vseritt@floyd.org.
Advocates (listed alphabetically by first name) who are or have been a part of the Breast Health Program are:
Amanda Kinder, Amy Knitig, Angie Goodson, Ashley Sanders, Barbara Naymick, Brenda Crane, Brittney Settles, Cathy Strickland, Chrystial Prater, Dahlice Malone, Debbie Freeman, Denise Crawley, Dianne Simpson,
Elizabeth Thomas, Emily Wooten, Glenda Fincher, Jan Hughes, Jane Franssen, Jane Harris, Jennifer Kligora, Julie Stancil, Karen Baker, Kellie Scalla, Kelly McKelvey, Kim Maxwell (deceased), Kim Smith, Konda Dizon, Kristy Ballard, Lacey Kinsey, Laura Hicks, Lesley Land (deceased), Lisa Stuenkel,
Lynn Todino, Miriam Fife, Misty Rogers, Paige Swiger, Patsy Wade, Paula Wachsteter, Sharon Corntassel, Sharon Crawford, Shirley Woodard, Susan Ayers, Susan Dupree, Synetta Whatley, Tammy Peach, Tina Huckaby, Vicki Cline and Vicki Slaughter,