'Addiction is a major factor'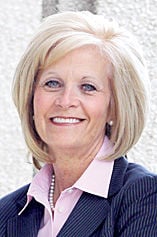 Following on the heels of a statewide mental health summit, Floyd County Commissioners are ready to map out a local action plan.
"The Stepping Up program is certainly something we are very interested in," Commission Chair Rhonda Wallace said. "We will be discussing passing a resolution at our next board meeting."
The national Stepping Up initiative — developed under the banner of the U.S. Department of Justice and the American Psychiatric Foundation — offers a toolkit of strategies and other assistance in dealing with the pervasive effects of mental illness and addictive behaviors.
Bonnie Moore, president of NAMI Rome, introduced the idea to the board, and commissioners learned more about it during the mental health summit hosted by the Association County Commissioners of Georgia last week in Macon.
Commissioners Allison Watters and Scotty Hancock also attended, along with County Manager Jamie McCord.
Wallace said the event featured a number of key leaders, including Nastassia Walsh, the program director of Stepping Up. Commissioners also heard presentations that focused on defining the problem, the current state of services, challenges on the local level and the link to the opioid epidemic.
"Addiction is a major factor," Wallace said.
The Georgia Department of Behavioral Health and Developmental Disabilities is hosting an opioid strategic plan summit on Aug. 21 in For-syth to unveil a draft statewide plan of attack that's been in the works for more than a year.
Wallace said she plans to attend or send a representative from the county. Meanwhile, they're digesting the information presented in Macon and how it can be applied in Floyd County.
"We walked away with some additional ideas on how and who to appoint to our community service board, as well as being proud of our cur-rent community leaders for what we are already doing," Wallace said.
The regional community service board governs operations of Dalton-based Highland Rivers Health, which runs outpatient and in-patient treatment facilities, crisis stabilization units, and programs for people with intellectual and developmental disabilities.
Each of the 12 Northwest Georgia counties has a representative on the board except Floyd and Polk, which have two.
This year the meetings — which are open to the public — are being held at Bartow Recovery and Wellness Center, 650 Joe Frank Harris Parkway, in Cartersville. The next meeting is at 10:30 a.m. Aug. 22.
Wallace said the commissioners who attended the mental health summit in Macon came away feeling the county is doing about 70 per-cent to 75 percent of the Stepping Up initiatives.
"We just simply need to be collecting the data and combining it into our action plan," she said.
Tracking the use of services and outcomes, she added, can provide more timely access to behavioral care. They're hoping the availability of support services and a treatment plan will help stem the tide of repeat offenders in the Floyd County Jail.
"We believe mental illness is treatable, but those persons living with the disease need our support," Wallace said.