Ability to adapt key to planned Rome High expansion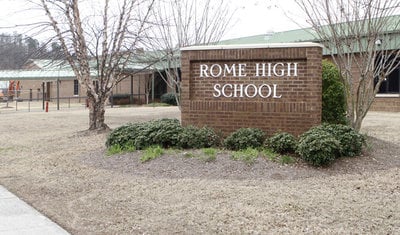 Editor's note: This is Part Two in a two-part series on the proposed new multipurpose facility at Rome High School that would be funded under an extension of the 1-cent education local option sales tax. Part One ran in Tuesday's Rome News-Tribune.
Flexibility is a key element in the planning of a college and career academy inside a new multipurpose facility at Rome High, said Lou Byars, the superintendent for Rome City Schools.
The system intends to construct the facility with a capability to change with the school's needs in the coming years, Byars continued. This way, the career pathways offered at the CCA would meet workforce demands as they adapt, he added.
The facility, which is estimated to cost $14 million to $16 million and be funded through an extension of the 1-cent education local option sales tax, would ideally open up for the 2019-2020 school year.
The school system hopes to have a facility which could change with needs of the workforce. Byars said they're looking five years ahead to see what jobs would be available for students when they graduate.
Building a degree of flexibility into the design of a classroom allows for it to be repurposed if a new pathway needs to replace one that previously made use of that space, Byars said.
 In determining what pathways to offer, system officials look to see which ones would be more feasible to offer through a partnership than having it within the CCA, Byars said.
For example, Georgia Highlands College President Don Green has conveyed that a computer forensics program at the local campus hasn't had enough students taking it to support it, Byars said. But with the addition of Rome and Floyd County students, the course could sustain itself.
Another example would be to utilize the aviation program at Georgia Northwestern Technical College rather than attempting to add its own aviation program at Rome High, Byars said.
Also, the system is working with the Floyd County Schools CCA to find pathways which could be shared between them.
Right now, Byars said, the JROTC program that Rome High is one pathway which may be opened up to Floyd County students — other current pathways and future ones would be considered for sharing as plans develop.
The system currently has about 15 pathway offerings and expansions could delve into medical-related fields, such as physical therapy, as well as culinary arts, automotive repair, construction, government services and multimedia.
If voters approve the sales tax extension on Nov. 7, then system officials could go ahead with setting up a contractor at-risk for the project. There would not be a lot of work in the first six months following the vote. Mainly this period would be for setting the pieces in place, finalizing the plans, should the extension pass.
This contractor would oversee the project and would hold all liability. Once they are approved by the board of education, they would go about setting up bid packages for subcontractors.
The system will not take bonds out to pay for the project before the five-year period for collections kicks off on April 1, 2019, Byars said. Rather, they would pull money out of the general fund and use ELOST collections to pay back the amount taken out when collections come in.
The system is eligible to receive $2.5 million to $3 million in state capital outlay funds, which will be reimbursed after fronting the cost of building the facility that will be constructed on the site of the football practice field.
Once the facility is built, Byars said, the system would qualify for equipment grants. For example, a grant like this could be used to purchase kitchen equipment for the culinary arts program.