A stinky shirt comes to aid in childhood cancer research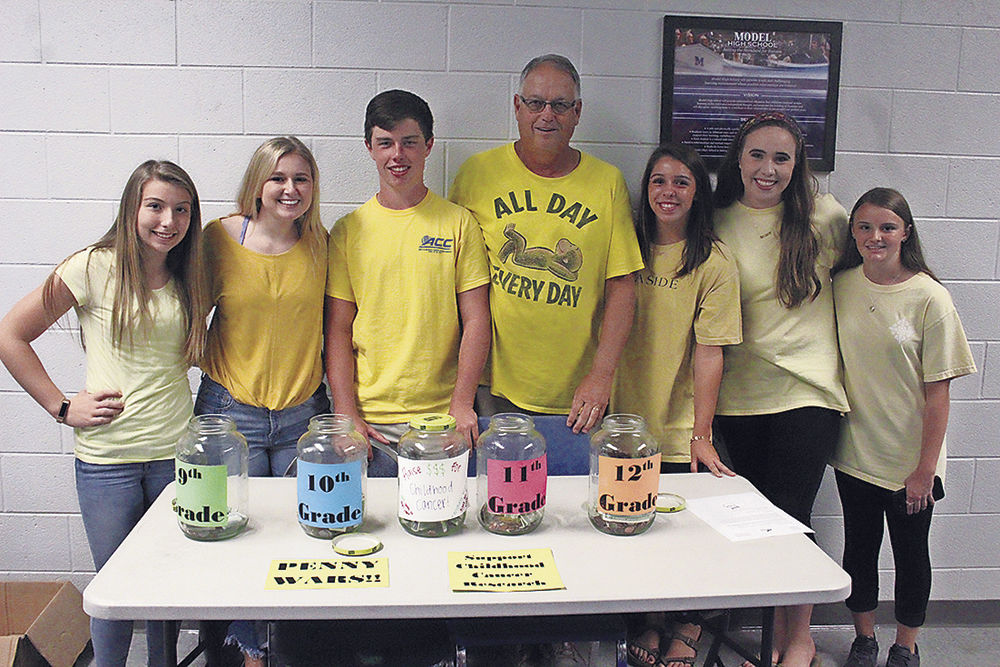 Model High School students like to joke with head football coach Gordon Powers, telling him he wears the same shirt every day, but it's really just that his wardrobe consists of mostly school-related attire. However, for the month of September, there's no joke to be had because he really has worn the same shirt every day.
For the second year in a row, Powers has used his yellow Curious George T-shirt — and his promise to wear it each day of the month if at least $10 per day is donated — to drive a fundraising effort for childhood cancer research and raise awareness in the process. It's the shirt he wears at football practices and on Friday nights, when the yellow sleeves poke out from beneath his Model Blue Devils shirt.
"There's a lot of people jumping out of the way like I have the plague or something," said Powers, adding that the Twitter hashtag #StinkyShirt has surfaced. "You know, people just kidding around."
Powers tells students he doesn't wash the shirt, but his wife has gotten ahold of it on a few occasions to put in the laundry, he said. But he did admit to having his own cleaning method.
"Febreze is a wonderful product," he laughed.
When the daughter of a former student died from cancer while at St. Jude Children's Research Hospital, which he has volunteered for, Powers decided to do what he could to round up money for researching childhood cancer. Last year's effort led to almost $1,500 being donated to the nonprofit Rally Foundation for Childhood Cancer Research, and this year's drive has brought in around $800 so far — Powers feels there is less this year because people are directing their donations to hurricane relief efforts.
Helping kids is something Powers is always trying to do, he said. He wouldn't be a coach or a teacher if he didn't, he continued. But what really opened his eyes to the issue of childhood cancer was the lack of funding dedicated to finding cures or treatments.
Only 4 percent of federal funding for cancer research is appropriated for children, according to the Rally Foundation. Powers feels it's a problem that gets neglected or people just aren't aware of the need. Losing a child is unimaginable for him, especially if he knows that what killed them could have been prevented, he said.
So that's why Powers wears the yellow shirt, with a statement that runs across the front as a motto, of sorts, for the support children need: "All Day Every Day."
On Thursday, students and staff were encouraged to wear gold or yellow shirts along with Powers. Cheerleaders have headed up a penny war between the grades, setting up a booth outside the lunchroom with four jars for donations. Collections have been taken at home football games, and, as the month ends with the team playing an away game at Pepperell High, Powers is looking to extend the donation period to the next home game, on Oct. 13.
"It's a wonderful community," he said. "They just really care."