Tech aids Model Middle School Spanish class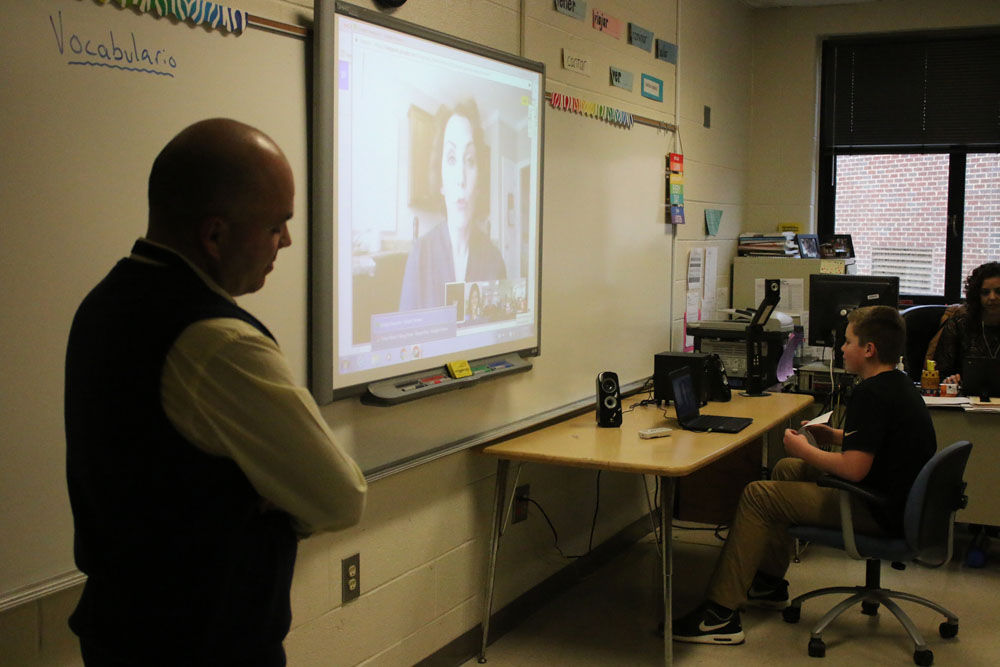 Technology managed to bring two cultures together and add to a lesson recently, as a middle school Spanish class not only had the opportunity to work with a native Spanish speaker, but also to learn about Cuba's traditions and history from a woman living in the country.
William Carvajal's Spanish class at Model Middle School spent Tuesday afternoon conversing with Senora Flippen, a native Spanish speaker living in Cuba.
Flippen joined Google Classroom at the appointed time and spoke with students and answered questions about Cuba. The students recorded the responses in a graphic organizer on their Chromebooks as part of Carvajal's lesson plan for the day.
Floyd County Board of Education members attended the class to see classroom technology use in action.
Recently, the board approved a $250,000 purchase of Chromebooks to further the system's goal of getting all schools to a one-to-one ratio of students to Chromebooks. Board chair Chip Hood expressed interest to Craig Ellison, executive director of technology and media services, in seeing the technology being put to good use.
"We asked Craig to set this up," Hood explained. "You hear a lot about needing the Chromebooks in the classrooms, but to see the devices in action is amazing to watch."
Hood commented on how engaged the students were, all participating in the discussion Flippen was having with their classmates, as well as taking notes about her answers.
"It's great to see this, as opposed to my Spanish class in high school where we had the book and the teacher speaking it to us," Hood said. "This sort of thing is invaluable, because I know people who graduated and assumed they were fluent in Spanish, but then they speak to native speakers and they are told they don't know how to really speak Spanish."
Carvajal said the lesson allows the students to learn more about communicating.
"Don't be intimidated, ask questions," he said. "That is the most important thing. If you don't understand, ask. This is an immersion class and an opportunity to practice a language like this is, that's what it's all about."
Because this technology wasn't available to the system even just five years ago, Ellison said he is "amazed" by the opportunity.
"Speaking with the teachers and the students and getting feedback from last semester when they spoke with a native Colombian, I am encouraged by this," he said. "It's a tremendous opportunity for our students to converse digitally with a native speaker using devices they were basically born using."
Ellison said he was pleased to show the board how the money they allocated was being put to good use in ways that helped so many students.
"People sometimes get confused about technology and forget that it can be a tool that in the hands of the right teacher, can make a huge difference in education," Ellison said.
Hannah Parker Nix, one of the students who spoke with Flippen, said she enjoyed the experience.
"It was really cool," she said. "I was surprised that I knew most of the words and was able to understand her well."
Colby Couch agreed.
"Using what I learned in this class, I was able to communicate with Senora Flippen," he said.