Rosa Chumpitaz receives the GEDD award at GNTC's Calhoun Adult Learning Center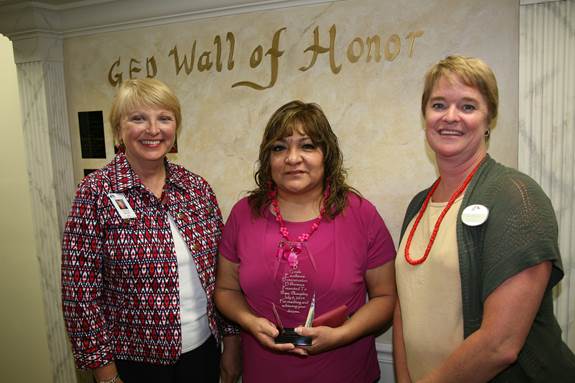 Rosa Chumpitaz, a teacher with Tallatoona Head Start in Rome, was presented with the GEDD Award during a recent ceremony held on the Gordon County Campus of Georgia Northwestern Technical College (GNTC).
Each year, the faculty and staff of the Calhoun Adult Learning Center at GNTC and the Calhoun-Gordon County Council for a Literate Community present a GEDD award to someone who earned a General Education Degree® from GNTC.
The GEDD award stands for Goals, Excellence, Determination, and Difference. The award is given to someone who has found success after receiving a GED® from Georgia Northwestern. Award winners are also named to the GED® Wall of Honor in the Calhoun Adult Learning Center.
"We are always pleased to acknowledge the efforts of someone who has not only earned the GED® but has gone on to accomplish great things afterwards and certainly Rosa Chumpitaz is a very good example of that," said Joni Harbin the executive director of the Calhoun-Gordon Council for a Literate Community.
Chumpitaz is originally from Bellavista, Lima. She emigrated to the U.S. and began a family in California. The family moved to Calhoun and Chumpitaz secured a job with Springs Global US, Inc. After Springs Global closed the Calhoun plant, Chumpitaz studied English as a Second Language (ESL) and quickly transitioned to GED® classes. Once she passed her GED®, she went on to earn her associate's degree from GNTC in Early Childhood Education. Chumpitaz currently teaches preschool at Tallatoona Head Start.
The award was presented to Chumpitaz by Lisa McKinney, ESL instructor at GNTC.
"Rosa was able to transition outside of my English classes and into GED® classes and was a stellar student all the time working in her second language," said McKinney. "Imagine studying math, science, social studies, reading, and grammar in what is essentially a foreign language; that is what Rosa accomplished."
Upon receiving the award, Chumpitaz stressed the importance of education to the individuals in the audience.
"I want to say to all parents please encourage your children to study because it is the only treasure that no thief can take," said Chumpitaz.
Previous winners of the GEDD award are: Jeremy Carlson (2004), Kevin Casey (2005), William Daniel, Jr. (2006), Judy Housley (2007), John Russell (2008), Clinton Marshall (2009), Sgt. Justin Baumgardner (2010), Tamara Burchett (2011), Amanda Gulledge Fridell (2012), and Gail Walker (2013). Walker currently works as an instructional aide for the Calhoun Adult Education Center.