RICO case tops 2015's education-related stories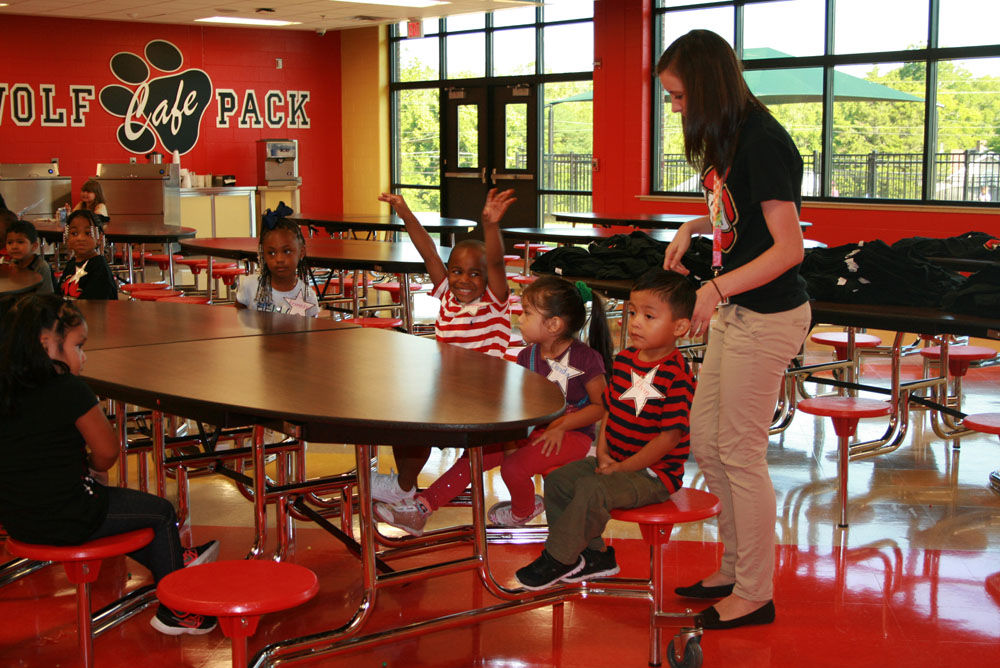 The following is a recap of the top 10 education stories for 2015. Education stories that made headlines this last year range from a rise in graduation rates to bidding farewell to a beloved school.
Senior staff resignations, theft allegations rock Floyd County Schools
In April, five Floyd County Schools officials left the system and one of those employees was accused of stealing more than $600,000 by using fraudulent purchase orders to buy chandeliers and high-end kitchen appliances.
Officials discovered the suspected misuse of county school money as they tested new software used for human resources and purchasing, said Tim Hensley, assistant to the superintendent.
Those who resigned were Derry Richardson, director of maintenance; Terri Snelling, director of school improvement; William Greg McCary, lead maintenance specialist; and Robert Chad Watson, operations coordinator. Samuel Sprewell, chief of operations, retired at the same time.
A RICO filing against Richardson came on the same day Floyd County Police Chief Bill Shiflett said the Georgia Bureau of Investigation would assist in a criminal probe into the misuse of funds at the school system.
The civil court action, filed under the Georgia Racketeer Influenced and Corrupt Organizations Act in Floyd County Superior Court, states Richardson and others submitted fraudulent, inflated invoices since 2007 on behalf of the Board of Education.
Richardson would then receive cash and items.
The GBI was called in to audit all bids submitted by the Floyd County School system going for the past five years, according to Shiflett.
There are 18 defendants named in the civil RICO filing. While police have said they are conducting a criminal investigation, no criminal charges have been filed in the case.
County schools start search for new superintendent
During a called meeting Aug. 14, the Floyd County Board of Education voted 3 to 2 in favor of a separation agreement with Superintendent Jeff McDaniel.
The board then chose John Jackson to lead the system as interim superintendent as they began a search for a replacement with help from the Georgia School Boards Association.
The application deadline was Nov. 13. The GSBA received 29 applications for the Floyd County position. There are 18 applications from Georgia, three from Alabama and one each from Virginia, Texas, California, Florida, New Mexico, Connecticut, Arizona and Pennsylvania.
During a called closed meeting in December, a GSBA official met with the board to discuss the candidates who most closely matched the board's criteria.
Board Chairman George Bevels said he hopes to start interviewing candidates in mid-January.
Graduation rates go up for both Rome and Floyd County schools, beat state average
Graduation rates at every school in Rome and Floyd County not only went up in 2015, they all beat the state average as well.
Coosa High had the highest average overall, and the highest amount of growth. This year, 93.1 percent of the students graduated, a jump of 10 percentage points from 2014's rate of 83 percent.
Armuchee came in second, with a jump of eight percentage points — to 92 percent in 2015 from 84 percent in 2014.
Rome High's rate also increased by eight points, to 89.8 percent in 2015 from 81 percent in 2014.
Rome Superintendent Michael Buck said the rate is the highest in school history.
Floyd County Schools' overall graduation rate increased to 90.3 for 2015, up seven points from 2014's rate of 83 percent. The state average increased five percentage points from 73 percent in 2014 to 78.8 in 2015.
Pepperell High went to an 87.1 graduation rate in 2015 from an 82 percent rate in 2014, a five point increase.
Model increased by two points, going to 88.8 percent in 2015 from 86 percent in 2014.
New Coosa High School
When Coosa High School students return from the holiday break in January they will be in a new school building.
Floyd County Schools officials held a ribbon-cutting ceremony in early December.
The school is a $32 million education local option sales tax project that was started in the summer of 2014.
Workers spent part of the holiday break moving furniture, computers and other items from the old school building to the new, so it would be ready when students return Jan. 5.
The second phase — including building the new gym, auditorium and parking areas — is slated to be finished by September 2016. Demolition of the old gymnasium has already started.
The new school, at 111,329 square feet, will be the largest in the county system.
Anna K. Davie opens its doors
With the new school year, a new type of collaboration officially began for Rome City Schools.
Anna K. Davie Elementary School, an $11 million education local option sales tax project, opened its doors for the first time, on the first day of school.
The school replaced Southwest Elementary School and, along with the new building, it has a couple of added features. Working in cooperation with the South Rome Redevelopment Corp. and Berry College, the Early Learning Center and the Urban Teacher Center are housed in the building as well.
The Early Learning Center consists of three classrooms, one of which is being used now and a second is slated to open in the 2016-2017 school year.
The center for 3-year-olds concentrates on giving them an early start on reading and getting them ready for school life. The teacher center helps educate and train future teachers and encourages them to eventually work in an urban environment.
Both systems work on one-to-one initiative
The Rome and Floyd County school systems are working toward having a computer for every child enrolled.
The process takes a while, mostly because of a need for funding. While both systems have benefited from grants to purchase devices for some schools, the main funding comes from education local option sales tax money. Also, the systems have to take time to train their staff and make the schools more Internet-friendly.
"We have been working on the infrastructure at our schools for about two years now," said Tim Hensley, assistant to the superintendent for Floyd County Schools. "The wireless connections in each classroom were not robust enough to handle 25 kids all using their devices."
Officials are increasing the wireless Internet access at each school, he said. The process is continuing this year.
A one-to-one ratio across the county system would cost an estimated $3 million in devices alone — figuring about $300 a Chromebook when supplying the 10,000 students.
In Rome City Schools, every ninth-grader at the high school received a Chromebook this year, according to Tim Fleming, technology director for the system.
The cost of the devices was $350 each and there are 470 in the freshman class, according to Michael Buck, superintendent. This comes to $164,500 to supply the freshman class with Chromebooks.
"This is a pilot and we thought this was the best way to roll it out," Fleming said. "We eventually envision every child in second through 12th grades having a Chromebook they can take home to use."
Going by current numbers — 4,800 students in second through 12th grades — the system is looking at a cost of $1,680,000 to supply every student a computer they can use.
Neither system has a timeline set in stone, but officials said they hope to have a one-to-one ratio within five years.
Hundreds gather to bid farewell to Midway Primary
At least 200 people packed into Midway Primary off Rockmart Highway in Silver Creek in May to say goodbye to a school many described as "home."
During the Community Celebration and Open House, visitors squeezed into the library and even more former students, teachers and parents filled the parking lots, hallways and playground — talking about old times and bidding a bittersweet goodbye to their school.
"It kind of burdens my heart," said third-grade teacher Bonnie Clark. "This is home. ... You feel it when you walk in the door, it's more than a school."
Midway Primary was a pre‑K through second grade school that fed into the Pepperell schools.
The 63-year-old school closed at the end of the 2014-2015 school year because of the Georgia Department of Transportation's plans to widen Rockmart Highway and build the Southeast Rome Bypass.
Floyd County Schools officials decided the construction work would make it too dangerous to have traffic coming in and out of the school.
Rome High opens Ninth Grade Academy
This year is the first for the Ninth Grade Academy at Rome High, which school officials hope will help keep students in school through graduation.
The academy occupies the M building at the school on Veterans Memorial Highway and used to be the math building. Every ninth-grade core-subject teacher is housed in the M building now. Before the academy, ninth-graders were spread across the school for their classes and often mixed into classes with sophomores, juniors and seniors.
Because ninth grade is such a big transition, system officials felt the academy would make moving from middle to high school less difficult.