Rhodarmer finds a home at Armuchee High School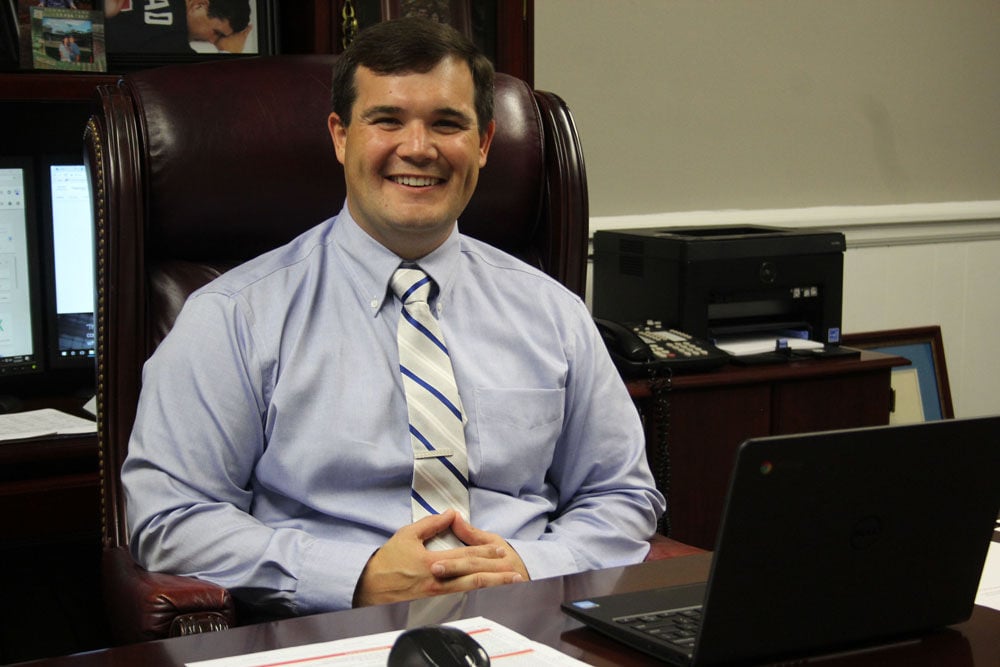 John Rhodarmer said the idea of being a high school principal in a small community like Armuchee "pulled on my heart strings a little bit" and reminded him of the small northern Alabama town he grew up in.
The personal connection that only small towns can bring, said Rhodarmer, is also a feature of Armuchee High School, which he will officially take the lead of Saturday, and is a testament to the sense of pride and belonging residents have in their school.
"It really is a tribe," he said.
Rhodarmer is replacing former Principal J.C. Burris, who is heading for retirement after 50 years in education, 14 of which as principal at Armuchee High. Rhodarmer is coming over from Coosa High, where he has been an assistant principal for three years, and previously taught the "gamut" of social studies courses at Pepperell High and was also a coach.
With the legacy Burris left behind, Rhodarmer said he is walking into a good situation and was able to take in some of the wisdom his seasoned predecessor had to offer. He seeks to build on the successes of the past and continue to improve in not only academics, but in the personal development of students, as well.
Example leadership is Rhodarmer's style, he said, and involves setting the course for others' behavior by doing the right thing himself. He's not a sit at your desk kind of guy, he added. Rhodarmer is a graduate of Shorter University, where he played baseball and earned his bachelor's degree after going to a community college in Alabama.
He went on to LaGrange College to get his master's degree and then moved on to his first teaching gig at Troup County High School.
After three years at Troup County, Rhodarmer said he was aching for home. However, home to him was not where he grew up, but the place where he met his wife, when they both went to Shorter. The close-knit school community of Armuchee High gives students and staff the feeling of being part of something bigger than themselves, Rhodarmer said.
He mentioned the Armuchee-Glenwood Education Foundation as something specific to Armuchee schools that reflects the community involvement, which allows kids to be the best version of themselves.
If someone had told Rhodarmer in the past that at this point in his life he would be a principal, he would not have believed them, he said. But this is something he has wanted, and by loving what he does and loving his colleagues, he said, then work isn't really all that much work.