Model Middle School Spanish teacher William Carvajal likes to do things his own way, emphasizing hands-on learning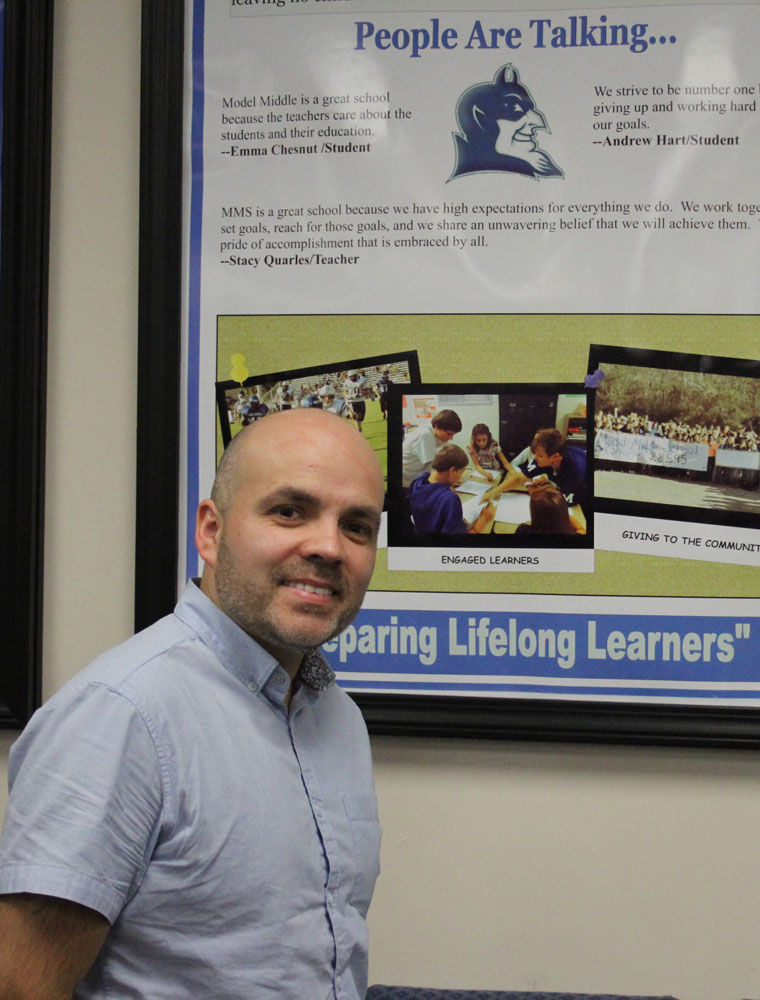 When walking into William Carvajal's classroom at Model Middle School, an observer won't find students hunched over Spanish textbooks, flipping to a page number shouted out by the teacher to begin the drudgery of another unit.
Rather students will be speaking and practicing the very language they've come to learn, exemplifying the spontaneous exchanges of human conversation and building a base for proficiency — which is the essence of teaching any language, Carvajal said.
On Wednesday, Carvajal will begin his second year at Model Middle, which is part of a school system that has given him the full range of freedom to implement his own curriculum focused on hands-on learning that was carried over from his previous school, he said.
Before the educator of almost 20 years landed in Floyd County, he taught at the Innovation Academy in Massachusetts.
Originally from Venezuela, Carvajal moved to the U.S. around 15 years ago, after spending several years of teaching in private schools in South America. About two years back, he had some friends who were moving to Georgia and they encouraged him to do the same with his wife and two kids.
Carvajal, who became a U.S. citizen five years ago, admits to wanting to get away from the long and frigid winters of the Northeast, but also wishing to move to the country for a slower life.
With several options on the table for where he would teach again, Carvajal said he found a home at Floyd County Schools, where he could be himself as a teacher and do things his own way.
He still recalls one of his earliest experiences in the system, with Superintendent John Jackson reinforcing in his mind to not be afraid of bringing new ideas into the classroom.
The overarching feature of Carvajal's teaching philosophy is that the interests of kids is what drives instruction, and the rigidity of a textbook-teaching format can be done away with, he said.
Conversations in the real world do not follow a cut and dried outline, but they move in a free-flowing manner. And learning a language, in Carvajal's eyes, is to emphasize what kids can do over what they know.
One of Carvajal's lessons is to have students create entries into a video diary. Students record three-minute videos of themselves speaking Spanish without any help from notes, giving them a backlog to track their progress.
They reflect on their areas of weakness and find points of strength, leading to them setting self-defined goals on how to improve.
Also, through the help of Google Classroom last year, students on two occasions were able to participate in video chats with native Spanish speakers. This gave students the chance to alleviate their fear of conversing with those from Spanish-speaking nations, Carvajal said.
Carvajal pushes students to give it a go in testing their Spanish with native speakers, who are more likely than not going to be sympathetic to the effort shown in such an attempt, he said. And even if this conversation only lasts for a few minutes, it should reflect an accomplishment in practically applying what's learned in class in the outside world.
Carvajal said he would like for the learning of a second language to be the rule in the U.S. — like it is in Europe — instead of the exception. To do this, second-language courses would need to be brought down into the elementary schools, as learning another language only becomes harder with time and it's better to start when kids' brains are still developing, he explained.
A shortcoming of other language-teaching methods is the stressing of knowledge-based tidbits about Latin culture, Carvajal explained, like studying the origins of Mexico's Day of the Dead or the causation of the Colombian civil war.
It's not to say that educating students to these things is not important, but the focus of a Spanish class should be more about giving them the foundation to actually be able to communicate, even if that just means they have enough for a brief conversation to start.
Learning for proficiency cuts to the bone of what being able to speak a second language is, the ability to bridge a cultural divide and to begin seeing the world through the eyes of someone different, Carvajal said. Language has the power to break through the cultural barriers of stereotypes and fabricated generalizations, he continued.