Mike Buck announces candidacy for State School Superintendent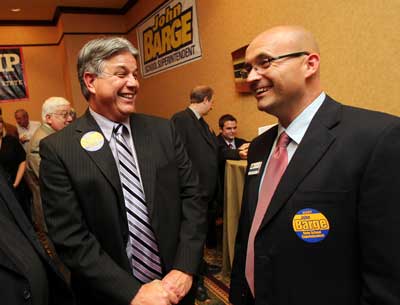 Former Rome City Schools administrator Mike Buck announced Monday he will run for Georgia's state school superintendent as a Republican.
Buck currently serves as chief of staff to State School Superintendent John Barge, also a Rome Republican, who is leaving after one term to make a bid for governor.
He said he decided to seek Barge's position out of a passion for helping students reach their full potential.
"I am convinced that there are two areas we must be successful in: the academic curriculum and standards, and what I refer to as the curriculum of life," he said.
Buck was principal at Rome High from July 1, 1997, through June 30, 2004. He served as Title I director for the city schools for one year before being named assistant superintendent July 1, 2005. He remained in that position until January 2011, when he joined Barge's staff in Atlanta.
He said he doesn't see the charter school issue as a major factor in the race but feels the Common Core conversion will be a focus.
"There is a strong group out there that is really anti-Common Core," Buck acknowledged, before saying he supports the states-based push to equalize educational standards across the nation.
"Common Core is not a curriculum," he explained. "Common Core is the standards, and it is up to each local school district as to how they teach the standards."
Buck said Georgia's standards were among those used to set up the Common Core initiative.
"I'm a fan of our standards,' he said. "More importantly, I've read the research that we've done with our teachers and they are overwhelmingly in favor of the standards we've got — and they really don't want to see a massive overhaul."
Asked about the political rift that has developed between Barge and Gov. Nathan Deal, Buck said he respects what Barge has done in the last three-plus years.
"Obviously he brought me up here; I was part of his team. We've made great progress, but I am my own man," Buck said. "I intend to take us from where we are and make us even better. I know that I can work with whoever is in office."
But he also said public education will never be as good as it can be unless the State Board of Education, the superintendent, the governor's office and the legislature are all working together.
"I've spent my entire career being a bridge-builder and that's what I intend to do from this office," Buck said.
Buck joins an already crowded field in the GOP primary, including Matt Shultz of Bartow County.
Other Republicans who have said they intend to qualify in March for the May primary are Richard Woods of Irwin County; Kira Willis of Fulton County; Fitz Johnson of Cobb County and Nancy Jester of DeKalb County.
The lone Democrat to publicly announce is Alicia Morgan from Cobb County.