Keep an eye out for buses today as Floyd County Schools students return to classes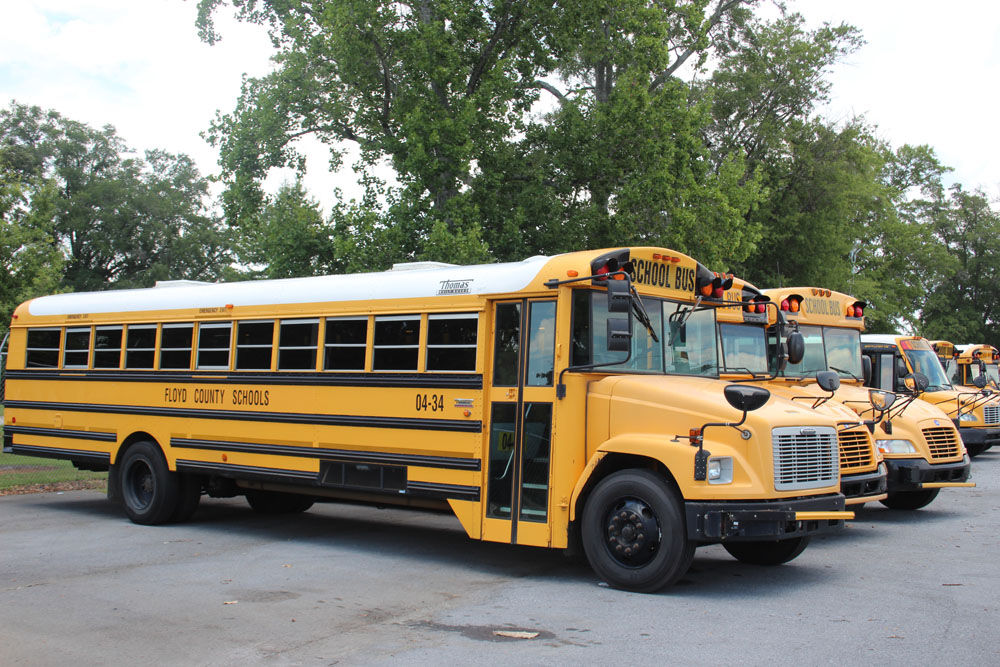 The bus fleet for Floyd County Schools will once again hit the roads with the start of the system's school year this morning, adding to the number of things drivers need to be cognizant of on the roads.
Jamie Rohler, a safety coordinator for the system's transportation department, said loading and unloading is the most dangerous time of school transportation, and specifically traffic on four-lane roads and highways is an issue for students and drivers.
In most instances, drivers in both directions must stop for a school bus when the red lights are flashing and the stop arm is extended as students get on or off buses. The exception is drivers going in the opposite direction of a bus on a divided highway — where there is a median or barrier in the center — do not have to stop, only vehicles behind the bus must.
Also, the amber lights on the front and back of buses will flash to alert drivers that a stop is about to be made, and drivers should slow down and be ready to stop. Drivers should only start to move after kids have made it at least 12 feet off the road, the stop arm is pulled in and the red lights are cut off.
Keeping students safe before and after they get on and off the buses is an equal concern for school transportation. One of the biggest things Rohler stressed was that students need to be at their bus stop five minutes before the bus gets there and need to be standing at least 12 feet away from the edge of the road. Children under 9 years of age need to have appropriate supervision — a parent, a parent-approved adult or a middle-school-age or older sibling — at the bus stop when they are dropped off; if not, a kid will be returned to the school.
Students need to wait until the bus has completely stopped and the door opened, at which point they should check that traffic has stopped and wait for the driver's signal to step toward the bus to get on. Additionally, students having to cross the road to get on the bus need to follow the first signal from a driver to walk up to the edge of the road. They then need to wait for a second signal and look left, right, left before crossing the road.