Jay Henry added to GNTC Board of Directors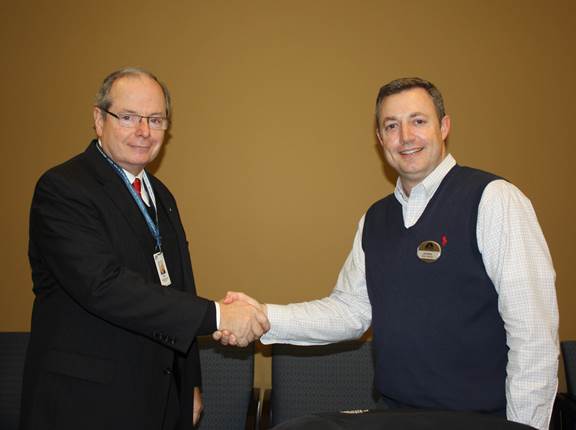 James K. Henry, director of Operations Support at Shaw Industries, was recently sworn in as Georgia Northwestern Technical College's newest Board of Directors member by Pete McDonald, president of GNTC, at a meeting held on the Gordon County Campus.
Henry has worked with Shaw Industries for over 20 years, with the past five years serving as director of Operations Support. He leads a very diverse group of corporate-level engineering, automation, energy, waste, and manufacturing-related functions to support operations, marketing, and sustainability processes across the enterprise. He previously served as the director of Samples Operations, in various manufacturing management positions, and as a management trainee, systems engineer.
Henry is a graduate of the Terry College of Business at the University of Georgia and lives in Ringgold with his wife Sandra and three children. He serves as a deacon and youth Sunday School teacher for his church and manages a youth traveling baseball team.
Georgia Northwestern's Board serves both in a community advisory capacity and in a limited administrative capacity, performing certain oversight responsibilities as designated by State Board policy. The local Board is comprised of 16 members from the business and industrial communities from nine counties in the service area (Catoosa, Chattooga, Dade, Floyd, Gordon, Murray, Polk, Walker, and Whitfield counties). State Board Policy defines the role and responsibilities of the local Board. Board members are selected because of their experience, ability, and dedication to deal with issues that relate to the mission of occupational education and are without contractual, employment, or personal financial investment in the school.
Listed are members of GNTC's Board of Directors showing (left to right) the Board member's name, county, place of employment, and title:
Brian Anderson, Whitfield, Dalton/Whitfield Chamber of Commerce, president and CEO
Mary Sib Banks, Floyd, News Publishing Company, vice president of Community Relations
Brent Box, M.D., Gordon, Gordon Hospital, chief hospitalist
Vann Brown, Whitfield, ArrowStar, LLC president
Paul Ferguson, M.D., Floyd, retired physician, Harbin Clinic
Randall Fox, Gordon, Fox Systems, Inc., president and general manager
Penny Grigg, Walker, Nissin Brake, HR manager
Jay Henry, Catoosa, Shaw Industries, director, Operations Support
Anne Kaiser, Floyd, Georgia Power, vice-president, Northwest Region
Andrew Kearton, Whitfield, IVC US, Inc., vice-president, Manufacturing
Jimmy Lester, Polk, J.L. Lester and Son, president
Todd Murphy, Polk, The HON Company, vice-president, general manager
Brittany Pittman, Murray, Murray County, commissioner
Dr. Vickie Reed, Murray, Murray County School System, superintendent
Scott Tucker, Chattooga, United Community Bank, president
Dr. Phillip Williams, Chattooga, Trion City Schools, superintendent
Todd Murphy currently serves as chair of GNTC's Board of Directors and Brian Anderson is the current vice-chair of the Board.
Georgia Northwestern Technical College serves Catoosa, Chattooga, Dade, Floyd, Gordon, Murray, Polk, Walker, and Whitfield counties in Georgia with campuses located in Floyd, Gordon, Polk, Walker, and Whitfield counties. Approximately 16,000 people benefit from GNTC's credit and noncredit programs, making it the largest college in Northwest Georgia and the fourth largest technical college in Georgia.