Holocaust survivor speaks to Rome Middle students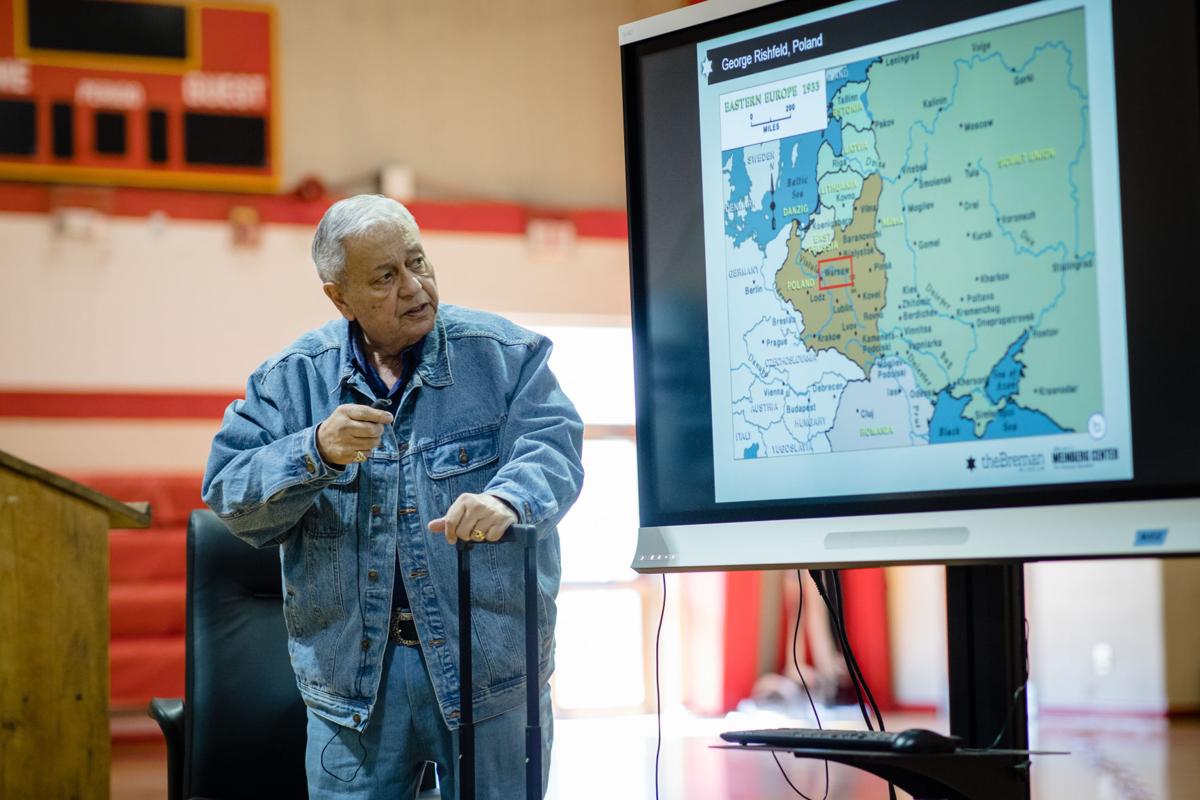 Some lessons transcend the books and blackboards.
George Rishfeld, a representative from the Bremen Museum, told Rome Middle School 8th graders of his childhood days in Poland and the mass murder of 91 percent of a Jewish population, totaling around three million people.
Rishfeld, who was too young to remember the early troubles his family faced, gave students information he was told by his parents later in life.
"When Hitler decided to bomb Warsaw in September of 1939, my parents wrapped me in furs from their business and we ran to a town called Vilna in Poland. There, they thought they would be safe. Today it is called Vilnius and it is located in Lithuania," he added, "because the borders were changed right after the war."
After setting up the feeling of displacement his family felt after moving to Vilnius, he detailed the decline of that area calling it, "the Nazi-controlled Vilna Ghetto."
His story continued as he spoke about a deal his parents made with a righteous Gentile family, after they began to see the real possibility of them losing their lives.
"My parents made arrangements with this family to save the child, which was me. You see, I was too young to be put into a labor camp, and I was too young to fight, so I am what some would call a child holocaust survivor," Rishfeld explained.
What came next were gripping recollections of the things he and his family went through while slipping through the hands of the Nazis. His aunt and his infant cousin were shot in the street after she refused a German soldier's advances, and his uncle was sent to Auschwitz to be killed in a gas chamber. His parents, after witnessing the steady decline in the safety of their new-found home, finally decided that it was time to get him out of Vilna, so they tossed him over a fence and into the arms of his Gentile saviors.
"This is where much of my memory picks up. The family I honor, the Fraczkiewicz's, brought me back to their apartment in Warsaw," he recalled, "and things were pretty good for me. I hate to say it, but I had a roof over my head, I had clothes on my back, I had food to eat and I had the one thing that all the money in this school can't buy...L-O-V-E."
Not knowing the family who had taken him in, Rishfeld remembered feeling alone and abandoned.
"I kept asking them where my mama and daddy were and they would kiss me on the forehead, on my cheeks and on the mouth so hard that my gums hurt and they would tell me everything is going to be okay," he said.
With time, Rishfeld embraced his new family and started to call them papa and mama. Using Anne Frank as an example, he told the students about the many times his new family had to hide him from the Nazis. One harrowing afternoon, a Nazi solider pierced a bed with a knife and he was underneath the bed hiding.
"Many times, if the child was small enough, they would hide them in the drawers with the clothing," Rishfeld recalled, "but I was too big. So, they told me to hide underneath the bed and they pulled the blanket down so that the Nazi could not see what was there. They told me not to move, not to breathe, not to make a sound. Then, I saw a blade come through the mattress and it touched me on the tip of my chin. If that Nazi had not been so lazy and lifted the mattress I would not be here talking to you today. I got lucky."
Luck, divine intervention or the careful way in which his adopted family hid him away would eventually lead to Rishfeld being reunited with his parents.
In 1945, his mother and father recognized each other while waiting on a train. His mother, sick and dirty after she was freed from a death camp, and his father who had spent the last few years of his life narrowly escaping death at the hands of the Germans, were finally able to see the child they would have given their lives to save.
After taking questions from the students, Rishfeld showed pictures of his family and photos of Eastern Europe during World War II. In 1949, he came to the United States by way of his mother's uncle, who sponsored the family.
Brooklyn, New York, would be his new home and he and his family never looked back. They still communicated with relatives in their home country, but his parting words to Rome Middle School's 8th grade class tell the story of why he is proud to call America home.
"I was 10 years old when I arrived in the states. I was 17 when I graduated high school. Then, I joined Uncle Sam's army, because I wanted to really learn to fight. I knew what if felt like to have everything you've worked for taken away from you. Since this was my adopted country, I would be ready for anyone who threatened our backyard."