11 Floyd schools get highest climate rating in state report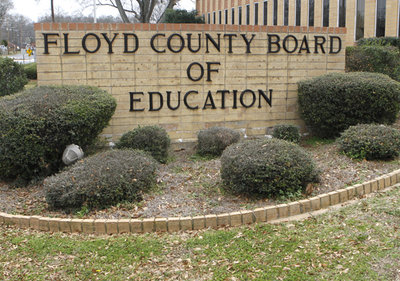 Twenty-three out of the 27 area public schools received excellent or above-average ratings on their climate reports for 2015, according to numbers released by the Georgia Department of Education on Wednesday.
"Climate" refers to the quality or character of school life. The ratings are calculated using surveys from students, teachers and parents, student discipline records, reports of incidents such as bullying or use of illegal substances and attendance records for teachers, staff and students.
Five stars is the highest score, ranked as excellent; four stars rank above average; three stars means average; two stars means below satisfactory; and one star is considered unsatisfactory.
Coosa High received three stars, an average ranking.
Aimee Hays is principal of Model Elementary, which received five stars. She said Wednesday that she's even prouder because it shows improvement over the 2014 score of four stars.
She credits that improvement to the "house system" school officials started this year. Each student and staff member was assigned to one of four houses, which make up smaller "families" within the one big "We are Model" motto the school adopted.
"It's changed our entire working environment," said Hays. "It has transformed our culture. Our students and staff are supportive of each other and it's made a difference."
System officials were pleased with the school rankings.
"We showed a lot of improvement this year," said Tim Hensley, assistant to the superintendent of Floyd County Schools. "Our five-star rankings increased from eight last year to 11 this year. More than half of our schools have five star climate rankings now and six more have four stars."
In Rome City Schools, six of the nine schools received four-star rankings — Elm Street, West Central, East Central and West End elementary schools and Rome Middle and Rome High.
Main and North Heights elementary schools ranked below satisfactory and Southeast/Anna K. Davie Elementary received just one star.
North Heights Principal Tonya Wood pointed out that the school improved from its one-star rating in 2014, and said she knows they can do better.
"Is that where we want to be? No," she said. "But we have put a lot of things into place that will help change that and I hope to see our score increase."
Wood said the school has implemented a PBIS — or Positive Behavioral Interventions and Supports — program.
"Schools that use PBIS report seeing fewer office referrals," she said. "It helps improve the school's atmosphere."
Attendance can also be an issue, Wood added.
"The state decreased the number of absences that can count against a school," she said. "Before, it was 15 per year, per child. Now it is six per year per child. If a child gets the flu, those days are pretty much all gone."
JoAnn Moss, principal of the four-star Elm Street, said she doesn't plan to be satisfied either.
"We absolutely want to be five stars," she said. "We have room to grow and we will get there."
Moss credits Elm Street's PBIS program and STEM program as being reasons for the four stars.
"STEM creates motivation and interest for the students and it creates a positive atmosphere for them," she said. "Our students want to be here."