Floyd County, Rome schools closed Tuesday as well, GDOT says state highways are open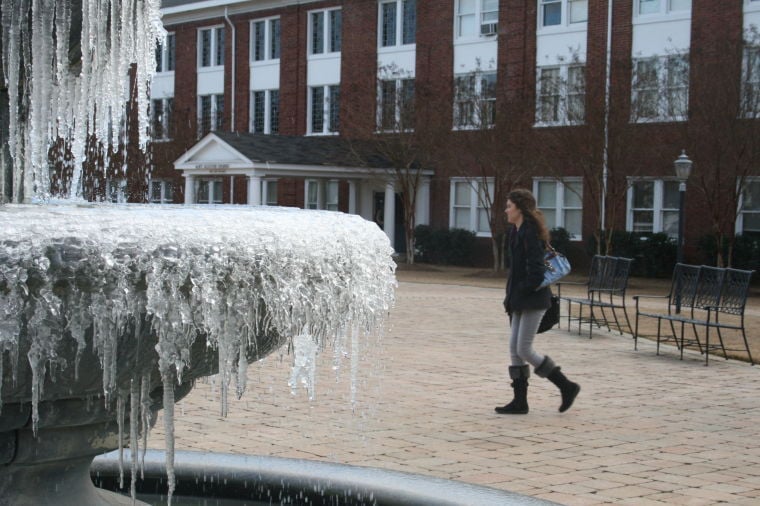 Floyd County Schools and Rome City Schools will also be closed for Tuesday. Floyd County officials cited wind chills expected to be at danger levels early tomorrow morning. Children waiting for buses early in the morning would be unsafe in the expected temperatures of -15 windchill. School will return to normal operation on Wednesday. 
Berry elementary and middle schools are closed tomorrow.
Darlington School open Tuesday. Today was a teacher work day.
Garden Lakes Baptist Preschool will be closed Tuesday - as per Jennifer Bagby, director.
The Georgia Department of Transportation reports the state's highways are open and areas that experienced icing overnight (primarily in northwest Georgia) have been treated.
Georgia DOT crews will remain active throughout the day and overnight hours into Tuesday treating any icing that may occur as a result of residual water on roadways.
Previously posted: Georgia Highlands College open today,but Marietta classes won't start until 10 a.m. Unity Christian is closed today.
Previously posted: Floyd County Schools will hold classes today.
St. Mary's Catholic School is also closed today.
Darlington was not scheduled to resume classes until Tuesday. Teachers should report today at noon instead of 8 a.m.
Previously posted: Rome City Scools will not have classes today or Tuesday but teachers should report at 10 a.m., reports Superintendent Jeff Bearden. He said the extremely cold weather was the biggest factor in his decision.
Previously posted: Georgia Northwestern Technical College has cancelled classes at all its campuses to day.
All Shorter University campuses will open at 10 am today and classes will resume at that time.
Rome-Floyd Parks and Recreation Authority facilities are closed today to prevent any unnecessary travel on the icy roads today, the Authority
will close all facilities and offices today. All activities are cancelled and will be rescheduled.
Previously posted: Most students across Floyd County are supposed to resume classes Monday, however Mother Nature may have something to say about that.
"Of course, we will be out checking roads all night, looking for freezing rain and ice," said Tim Hensley, Assistant to the Superintendent at Floyd County Schools. "Usually we finish checking between 5 and 5:30 a.m. and make a final decision by 5:45. When we do make that decision, we post it on our Facebook site, Twitter, we call local media and we send out the automated calls to parents."
Rome City Schools Superintendent Jeff Bearden said his system works with Rome Transit officials and Floyd County Emergency Management to make a decision.
"We usually start checking roads around 4 a.m. and try to make a decision by 5:30 a.m.," Bearden said. "It is a big team effort between our maintenance staff and the transportation folks and the emergency management staff. We have many teachers who travel in from other counties and Alabama, so we try to make the decision as early as possible."
Rome City Schools also uses social media to make sure the message is received.
"We contact local media, we put the news on our website and we use Facebook and Twitter to reach our parents," Bearden said.
If school is in session, students are encouraged to dress extra warmly, to combat the wind chill advisory the National Weather Service has put in place for Rome and Floyd County today.
"We hope everyone will take extra precautions because of the colder temperatures," said Hensley. "Try to stay out of the weather as much as possible and make sure you dress warmly. Also, we advise all parents to have a family plan in place if schools do have to close. Unfortunately, this weather is coming in overnight and can be hard to predict. During these winter months, it is best to know ahead of time what you will do in case of a school closing."
Area private schools are also planning for inclement weather.
"If either Rome or Floyd County (schools) close, we follow them and close too," said Christa Jackson, assistant principal at St. Mary's School. "We always contact our parents to let them know and we contact local media as well."
Darlington School's inclement weather policy states that a decision about closing or delaying the start will be made before 6:30 a.m. on the day in question.
"If there is a change in the schedule, we will notify parents via our text alert system, in addition to posting the information on our school website and social media pages," said Darlington spokeswoman Tannika Wester. "We will also notify local media so that they can help share the information."
As of Sunday, there are no changes to the schedule for Darlington's professional development day today or the students' return to school on Tuesday.
"However, we will continue to closely monitor weather conditions," Wester said.
"We generally follow whatever Floyd County Schools decides to do," said Belvin. "We use the Berry Alert System, which calls all of our parents to let them know. We also contact local media and we use Facebook, too."
The Rome News-Tribune website will be posting weather updates throughout the day as warranted.