Closings List: Darlington, Rome, Floyd schools, Unity Christian cancel classes; Health Dept. to open late...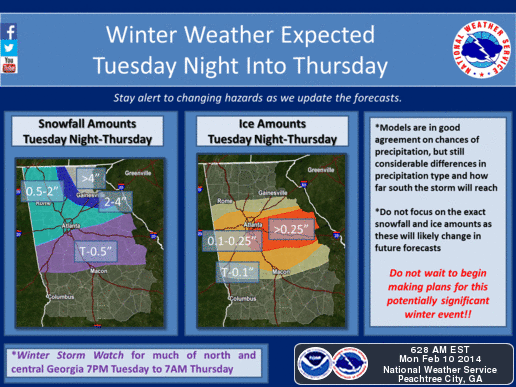 All Shorter University campuses will be closed and all classes cancelled for Tuesday.
Georgia Highlands College all campuses closed Tuesday.
The YMCA has cancelled all youth sports activities, aerobic classes, and childcare for this evening and tomorrow.
Rome City Schools and Floyd County Schools has canceled classes for Tuesday, for students as well as teachers. After school activities for Rome schools Monday night are canceled.
The Rome City Board of Education meeting for Tuesday is also canceled. The make up date for the board meeting is Feb. 18.
All campuses of Georgia Northwestern Technical College will be closed tomorrow.
The 7-AA region basketball tournament at Calhoun High School has been postponed for this evening.
The GICAA League games will be postponed to Friday, February 14th. Starting time will be 4 p.m.
St. Mary's School classes are canceled Tuesday.
Unity Christian School classes are canceled Tuesday.
Berry Elementary and Middle classes are canceled Tuesday.
Darlington Schools will be closed Tuesday and instead have a Distance Learning Day. A decision on Wednesday classes will be made at a later date.
Providence Preparatory Academy will be closed
Northwest Georgia Public Health offices and the Floyd County Health Department will delay opening Tuesday until at least 10 a.m. An announcement on opening or closing will be made no later than 8:30 a.m.
The Fire Overview Committee scheduled for tomorrow February 11, 2014 at 10:30 a.m. has been canceled.
The Rome Board of Education meeting has been moved to next Tuesday, Feb. 18.
The Salvation Army of Rome will be closed Tuesday but the emergency shelter will be open. Officials say they have cots and blankets to accommodate as many men as possible due to the bad weather. The shelter also will allow them to stay during the day. 
Gordon County and Calhoun schools are closed.
Floyd County Parks and Recreation Authority programs have been cancelled for Monday, Feb. 10 and Tuesday, Feb. 11. They will be rescheduled.
The Rome-Floyd County Library will have a delayed opening on Tuesday. The Library will open at 10 a.m.