The Spanish Spotlight: Triki-Triki Halloween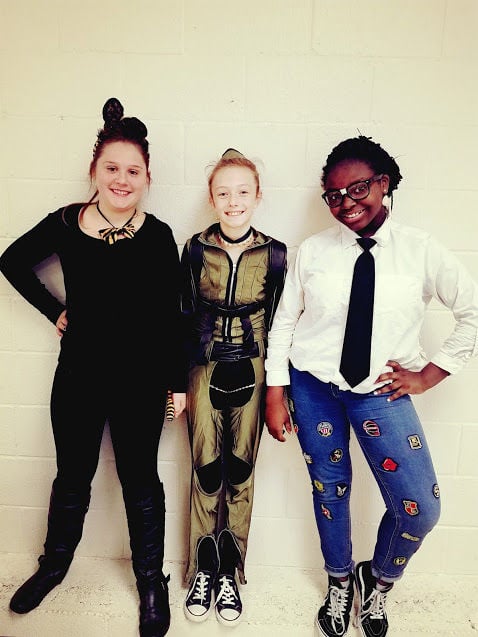 This week, a team of seventh-graders focused their language study on cross-cultural similarities and differences in the way Halloween is celebrated in the South American country of Colombia and the U.S. Here is what they shared for The Spanish Spotlight:
"In Colombia, Halloween — mostly known as the day of the children (children's day) — has a different connotation. Halloween is now just Halloween or Noche de Brujas. On this day, children dress up as their favorite character. Walking the streets, you will see Batman, fairies, dogs, cats, ninjas, cowboys, princesses, etc.
"The children will get candy, balloons, ice cream and other gifts in celebration. Unlike here in the US, where kids go from house to house seeking candy, most kids are taken to shopping malls or grocery stores (Centros Comerciales) where they ask for and receive candy.
"So, what is the Colombian Trick or Treat saying? It goes like this:
Triqui Triqui Halloween — Tricky Tricky Halloween
Quiero dulces para mi — I want candy for me
Si no hay dulces para mi — If there is not candy for me
Se le crece la nariz. — Your nose will grow.
"Compared to the traditional American-Halloween song that we learn as kids here in the U.S.A., I find the Colombian version quite interesting and fun. Feliz dia de las brujas! Happy Halloween!"
HenRinesha Coalson, seventh-grader
"Americans celebrate Halloween in a unique way. For children, dressing up and trick-or-treating door-to-door is still the main event. Although Halloween comes in part from Christian tradition, many Christian groups want nothing to do with the holiday because of its pagan elements.
"I find interesting that the celebration's connection with All Saints' Day and All Souls' Day has mostly fallen by the wayside, and a number of new secular traditions have developed."
Makayla Coomer, seventh-grader
"A good start to gaining some understanding of the lives of people living in a country is to look at their cherished customs and traditions. These illustrate not only what is important to the people living there, but also how they relax and have fun.
"Colombia is full of culture and traditions. As I have been studying the Hispanic culture, I have learned a lot of interesting facts about their celebrations. I also realized that Hispanic countries have a few things in common with each other when it comes to the way they celebrate holidays and festivals.
"Learning about the Spanish culture has encouraged me to increase my language proficiency since the more I understand the language, the more I will be able to discover the Spanish infinite world of traditions"
Mary Brown, seventh-grader