Pepperell Middle School chorus chosen to participate in Nashville Mass Choir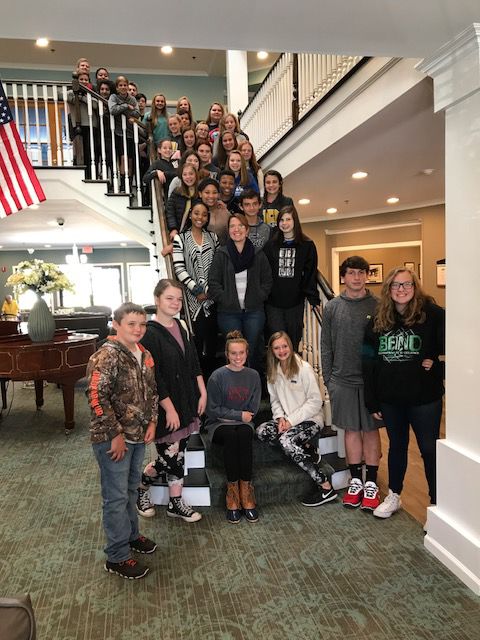 The Pepperell Middle School eighth grade Chorus will be marching and singing with a mass youth choir from across the nation in the nationally televised Nashville Christmas Parade on Saturday, December 2. The parade will take place in downtown Nashville beginning at 8:30 am EST.
"I am so proud of all of these kids. They have worked hard since day one of sixth grade and haven't let up since," said Mrs. Liz Petty, PMS Chorus director. "I am so excited to be able to experience this wonderful event with them!"
This is the 64th annual Nashville Christmas Parade. It is the Middle Tennessee region's most beloved spectacle featuring giant helium balloons, floats, specialty performance groups including a mass youth choir made-up of students from around the nation, celebrity performers, marching bands and of course, the one-and-only Santa Claus! These groups of all shapes and sizes will be set to entertain the spectators 'live' on the streets of Nashville and over a million viewers on television.
According to its website, Nashville's Christmas Parade dates back to Nov. 28, 1927, and it has been a staple of Middle Tennessee's holiday festivities ever since. Numerous organizations and entertainers have participated in the parade since its inception, spreading holiday cheer to thousands of parade goers each year. The first parade was originally sponsored by the Associated Retailers of Nashville. By 1930, Nashville's daily newspapers were sponsoring the parade, along with WLAC Radio.
Throughout the years, Nashville residents and out-of-town guests have flocked together in big numbers to see the parade. In 2015, the parade moved to its present Saturday morning time. The parade route was also reversed to march down Broadway, then up 2nd Avenue North and across the river before ending at the base of the Woodland Street Bridge.