Matthew Shoaf gets chance of a lifetime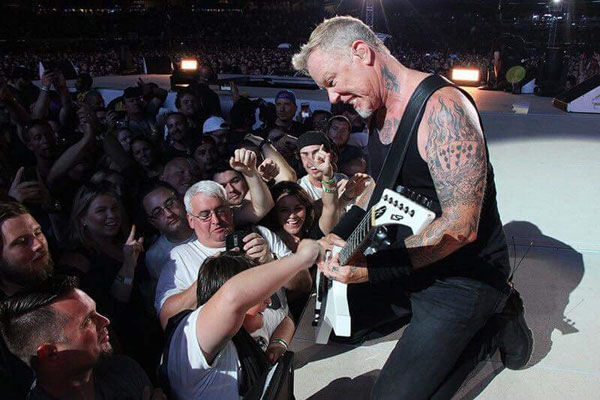 Matthew Shoaf has been to three Metallica concerts since he was born, but the last concert, which was held at SunTrust Park two weeks ago, made a lasting impression on the 12-year-old that is not likely to leave his memory anytime soon.
While in the Snake Pit, which is an area cut out around the stage for fans to be right next to the band as they perform, Matthew got the opportunity of a lifetime when James Hetfield, the band's lead singer, knelt down and handed him his pick. He said he immediately got lightheaded, but in the good way, as he reached up and played Hetfield's guitar before a crowd of thousands.
"I never thought that I would be able to be a part of that and strum his guitar," he said, adding that he has listened to all of the band's albums. "I'm going to cherish this as long as I live."
Matthew said that if anyone loves a band that much and gets an opportunity to do what he did, they are most likely going to get lightheaded or possibly faint. Right after the concert, he called his best friend and told him what happened, and his friend replied, "No way bro."
Matthew's father, Dennis Shoaf, the mayor of Cave Spring, attended the concert with his son. Dennis Shoaf has shared his love for Metallica with his son ever since he was born, Matthew said.
Dennis Shoaf has been trying to get into the Snake Pit for 30 years, said his son, who is going to attend Rome Middle School this year.
And he finally got the opportunity after winning two passes for the concert at SunTrust Park.
It was special for Matthew to be able to have that experience with his father, he said, since he is the man who introduced him to the band he loves so much.