FCS bridge challenge introduces students to engineering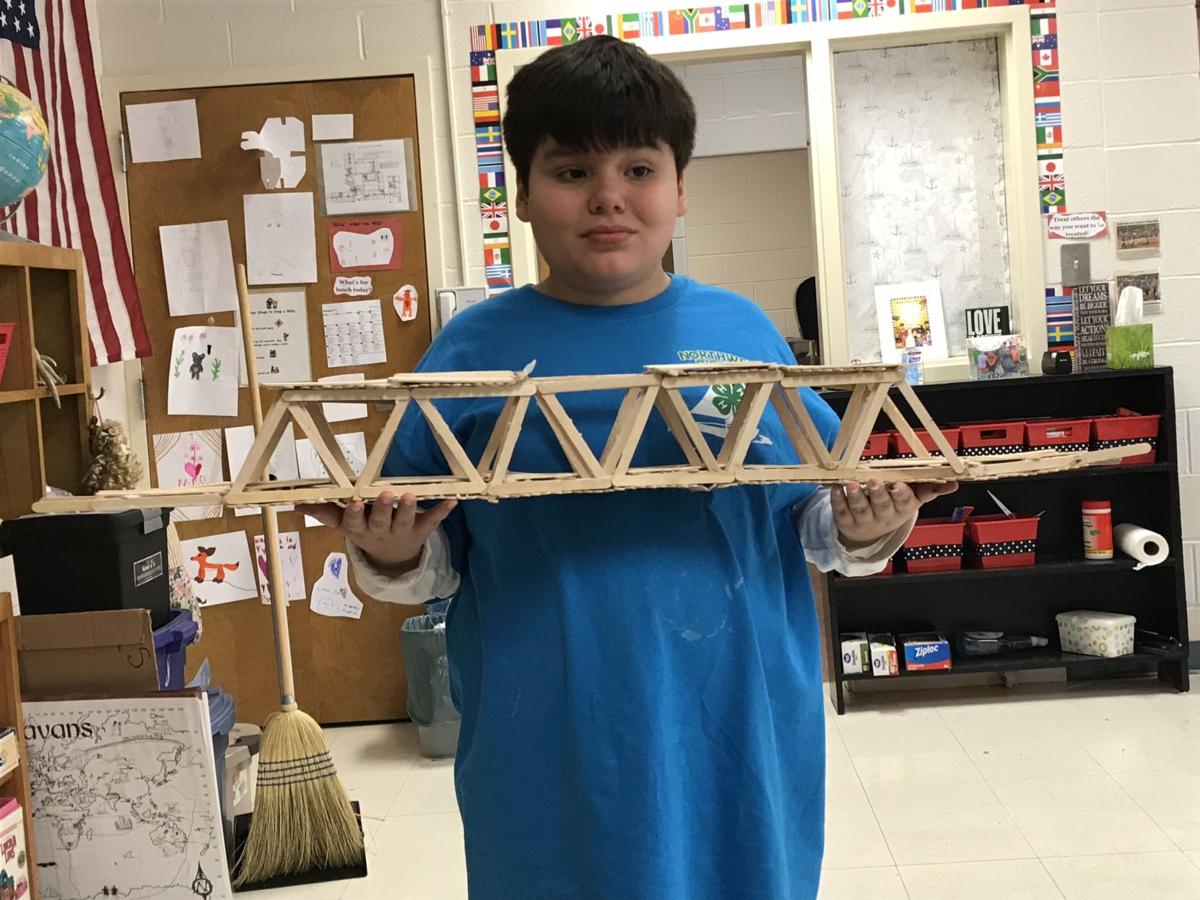 The Floyd County Schools Department of Technology held its annual Popsicle Stick Bridge Challenge at Alto Park Elementary last week.
As reigning champions of the inaugural event last year, Alto Park Elementary played host to 12 teams of aspiring engineers currently in third, fourth and fifth grades who qualified for the district challenge after winning at the school level. The four elementary schools that participated were Alto Park Elementary, Cave Spring Elementary, Garden Lakes Elementary and Model Elementary.
"This was our first year at GLES to participate in the Popsicle Bridge Challenge. It provided our students an opportunity to think creatively, problem solve and work as a team. This challenge provoked excitement throughout our school and was a rewarding experience," said Garden Lakes Elementary Principal Mary Alcorn.
A Popsicle stick bridge challenge starts with students designing and building a bridge out of only 400 Popsicle sticks and basic white school glue that can span a 20-inch gap with a roadway the width of a Popsicle stick. The design strength is then put to the test when it is placed with the ends on two table tops 20 inches apart with a five-gallon bucket chained in the middle of the bridge to add weight. The bridge that holds the most weight wins the challenge.
"STEM challenges like this one are a great way for our students to learn and exercise their problem solving skills. As they incorporate the Science, Technology, Engineering, and Math behind the project, they begin to see how everything they are learning in the classroom can be applied to real-world situations," said event organizer and Floyd County Schools Instructional Technology Specialist Nathan Medley.
Garden Lakes Elementary's fifth grade Team B-- Gabby Gonzalez, Bella Broadway, Taylor Ragland, and Tanijah Dennis won the students' choice award for Best Looking Bridge. Cave Spring Elementary third-graders Audre Krause, Ryley Scoggins, and Carly Wallace won the Third Grade Weight Competition Champion at 72.5 pounds. Garden Lakes Elementary fourth-graders Alberto Monzalvo, Michael Hawkins, Zayden Lopez, and Juan Bernardo Mendez won the Fourth Grade Weight Competition Champion at 110 pounds.
Alcorn's fourth-grade school winners said they thought it was such a creative, fun, and cool activity. They liked the teamwork, the friendships, and being able to work together. They also added that they didn't argue.
The winning bridge was designed and built by Model Elementary fifth-grade Silas Bryson in Angie Yancey's class. Before Silas' bridge was tested, an announcement was made that he was unable to attend because he had the flu, but he was watching the event from home thanks to the creative tech department that live-streamed it on YouTube. The more weight his bridge held, the louder all competitors cheered for Silas so he could hear the excitement erupting in the Alto Park Elementary gym. His bridge surpassed last year's grand champion by 50 pounds at a whopping 160 pounds, making Silas the Fifth Grade Weight Competition Champion, the 2018 Grand Champion, and the current record holder.