Coosa senior Alexys Davis lands on state Student Advisory Council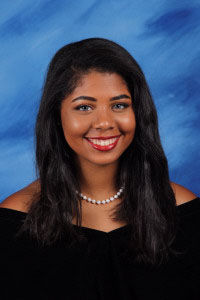 A Coosa High School senior has been selected out of a pool of more than 1,500 students across the state to serve on this school year's state Student Advisory Council.
"Right now I'm really surprised and really excited," said Alexys Davis in an email. "It's a great opportunity."
Davis and 141 other public school students were chosen by Georgia State School Superintendent Richard Woods to be on the council based on the quality of their short-answer responses to questions concerning their ideas for public education and how it can be improved, as well as describing their community service experiences.
Davis was one of 23 selected to the council for high schoolers — there is a middle school council, as well. She is also the only local student to be on the council this year. She decided to try to get on the council after a teacher had brought it up. She thought it would be a positive experience, and it would bolster her resume even if she just applied and wasn't picked.
The council meets three times over the school year and students will talk over the effect state policies have in the classroom while exploring other education issues with Woods.
"Public education is just as good as private education," said Davis. "You learn a lot in these walls. I'm not forced to be here. I like being here and I really enjoy it."
At their schools, students will become ambassadors for Woods, along with taking part in community service projects.
One of Davis' areas of focus is testing, which she will offer up potential changes to during council meetings.
"Instead of having the finals testing, I'd rather us have different sets of assessments," she said. "Focus on students strengths instead of weaknesses.
"Instead of memorizing things just for a test that we will never use again, make some lessons/prep for the standardized testing really apply to students' real life situations so we can hold on to it long term."
Davis is also pushing for greater student involvement in community work, as a way of developing character, she said.
"Every year, it is so valuable to hear directly from students through my Student Advisory Council," Woods said in a news release. "In the past, we have made direct changes based on student feedback, and I look forward to working with these 142 students who I know will make an impact. I'm so grateful for every student who took the time to apply and share their thoughts."