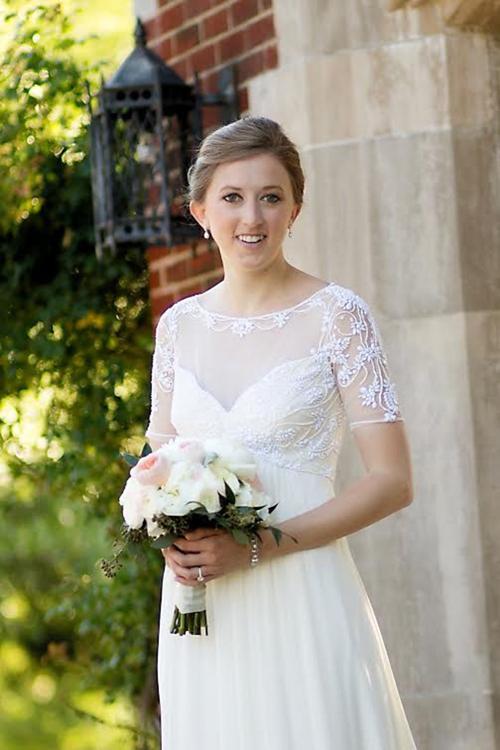 Elizabeth Formby Buice and Clark Coleman McGehee were married at 11 a.m. on May 23, at Darlington School. The bride is the daughter of Mr. and Mrs. Richard Buice of Rome.  The groom is the son of Mrs. Robert McGehee of Rome and the late Robert McGehee.
Reverend Doctor David Campbell and Reverend Doctor Robert Brown performed the double-ring ceremony. Bouquets of peach and blush garden roses and blush and ivory eremerus, snap dragons, lilies, and hydrangea were placed in limestone garden urns at the altar. Family pews were marked with bouquets of antique green hydrangea and peach roses with cascading foliage and ribbons.
A program of wedding music was provided by pianist Kim Tunnell and vocalist Susan Campbell. Selections included "Morning has Broken,"  "Jesu, Joy of Man's Desiring,"  "Canon in D,"  "Come Thou Fount" and "Married Life."
Kristi Buice of Atlanta was the maid of honor. Natalie Babington of Birmingham, Alabama, Kristen Blackwell of Atlanta, Cassandra Deitrick of Newark, Delaware, Grier Fricks of Rome, Taylor Harrington of Issaquah, Washington, Tash Kopecky of Harare, Zimbabwe, Christina Ricks of Mobile, Alabama and Landon Watters of Augusta were the bridesmaids. They wore navy silk chiffon dresses. They carried bouquets of peach Juliet garden roses, peach spray roses, blush ranunculus, and coral hypericum berries with seeded eucalyptus tied with navy satin.
The bride, given in marriage by her parents and escorted by her father, wore a romantic floor-length silk chiffon gown with a delicate beaded bodice, three quarter length sleeve, and empire silhouette. She carried a loosely-styled bouquet of ivory and peach peonies, blush David Austin garden roses, coral hypericum berries, and mixed foliage tied with ivory satin.
Jason Mitchell of Dubai, UAE was the best man. Kevin Autrey of Anchorage, Alaska, Nathan Blatt of Ft. Walton Beach, Florida, Garnett Decosimo of Atlanta, Tyler Dupont of New York, New York, David Lue of Palo Alto, California, Ryan Reed of Ft. Walton Beach, Florida, and Sidney Usry of Santa Rosa Beach, Florida were the groomsmen.
The mother of the bride wore a formal gown of navy chiffon. The bodice of the gown featured a portrait collar which finished into a V-neckline and sheer three-quarter length sleeves. The mother of the groom wore a sleeveless royal blue gown with a lace bodice over a surplice waist band and finished with a floral silk wrap. The mothers were presented with bouquets of ivory roses, coral hypericum berries, and foliage.
Following the ceremony, a brunch reception was held at Darlington School. Refreshments included an assortment of cupcakes and a small bride's cake with lemon curd filling and buttercream icing.
The evening before the wedding, the groom's mother hosted a rehearsal dinner at Harvest Moon Cafe. Other pre-nuptial parties included a linen shower in Rome given by Natalie Babington, Joan Brock, Claire Davis, Janice Davis, Grier Fricks, Ramona Fricks, Christina Ricks, Carol Rutledge, Jennifer Watford, and Donna Watford, and a bridesmaids luncheon hosted by Beth Formby, Minna Gioia, Laura Murray, Dee Dee Rhodes, and April Van Es. On the morning of the wedding, refreshments for the wedding party were provided by Karen Bennett, Denise Evans, and Karen Tucker.
After their honeymoon to Europe, the couple will reside in Ft. Walton Beach, Florida.