Tickets still available for the Battle of the Bands on Saturday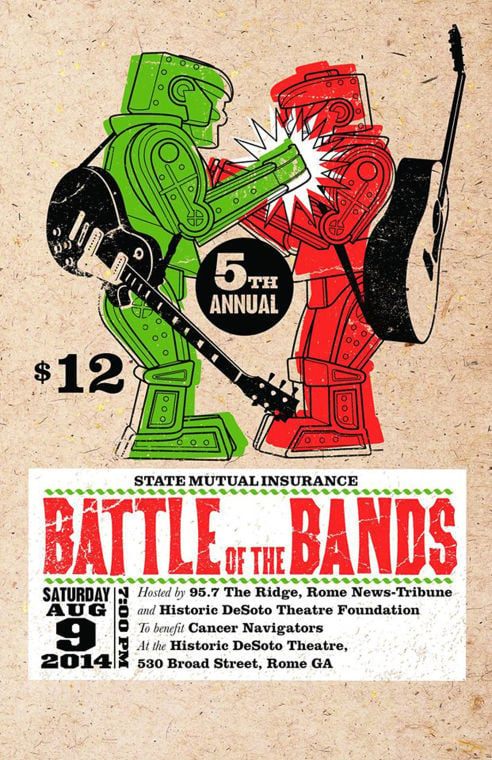 The 5th Annual State Mutual Insurance "Battle of the Bands" benefiting Cancer Navigators will hit the stage at the Historic DeSoto Theatre in downtown Rome on Saturday, Aug. 9, at 7 pm.
The "Final Four" bands left standing will duke it out on stage for the Judges Choice Award and the People's Choice Award. Those bands are The Kamikaze Dali, The Donors, The Holler and Awake For.
Last year's Judges Choice winner, Five40, will open the live show. Tickets are on sale now for $12 each at the DeSoto box office at 530 Broad Street in Downtown Rome or by calling (706) 295-7171.
You can also buy tickets online at www.desototheatre.com. For this year's event, 95.7 FM The Ridge has partnered with State Mutual Insurance, the Historic DeSoto Theatre Foundation, Rome Area Council for the Arts (RACA), Wings Over North Georgia Air Show, Rome's Downtown Development Authority and Cancer Navigators. All proceeds from this event will go to Cancer Navigators.
The Judges Choice champion will receive $500 from Rock Star prize sponsor RACA and both bands will get to perform at the air show and a downtown concert. Judges are Scott Moody, Erica Simpson and Nina Lovel. Online voting continues on the radio station's website http://www.theridge957.com/battle2014/.
Each dollar of donation counts as one vote. Online voting continues through noon Saturday, but will continue at the live show through donation buckets. All proceeds go to Cancer Navigators' mission of helping cancer patients on their journey.