Staton sells Rome home, duplexes on Old Summerville Road also sold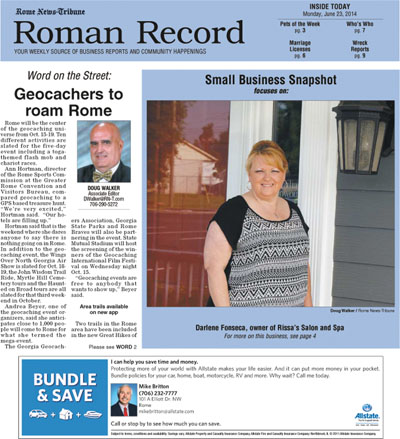 Several large real estate transactions are included in Monday's Roman Record database, including the transfer of property at 405 Bells Ferry Road northeast of Rome from state Sen. Cecil P. Staton Jr. to Russell L. Roberts Jr.
Documents available at the Floyd County Courthouse report two transfers at the same location, one for $437,000 and the other for $198,000. The property features more than 32 acres, a residence and outbuildings.
Staton, who lives in Macon, made an unsuccessful run for the U.S. Congress in 2002, losing in a GOP runoff to eventual Congressman Phil Gingrey.
Another large transaction involves the sale of property at 1866 Old Summerville Road — five duplex homes from Old Summerville Road Partners to WNI properties for $340,000.
Monday's Roman Record Small Business Snapshot will shine on Juan Ortiz and his new El Mariachi restaurant, 3349 Martha Berry Highway.
The Word on the Street feature has information about plans for a temporary closure of the Rome Area History Museum in July.