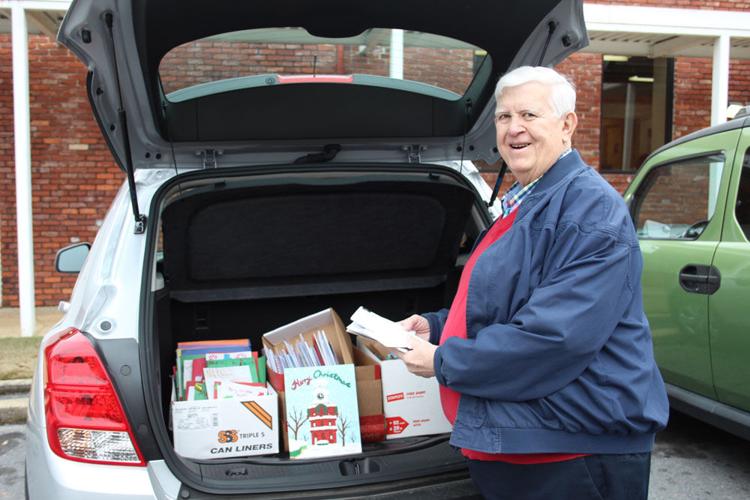 Ralph White receives more than 1,000 cards after newspaper callout
Ralph White says he doesn't know anyone from Grand Forks, North Dakota. And it's doubtful he's familiar with anyone from Sharp Creek Elementary School in Cartersville, either.
But that didn't keep them from sending the Rome resident Christmas cards this year.
As a matter of fact, White received more than 1,000 Christmas cards from people, businesses and schools in Rome, Floyd County and surrounding counties.
"I'll have to take these back home and sit down and read every single one," White said after he picked up the cards early last week at the Rome News-Tribune.
He might still be reading them.
"The ones from the schools are the most special. The ones the kids made with their own hands, those are just wonderful."
The cards were an appropriate Christmas present for a man who for so many years sent out hundreds of Christmas cards to others.
For about 30 years, he and his wife mailed out tons of cards. White estimated the number hit close to 900. But in an ad that ran in the Rome News-Tribune, he said this year would be his last.
White's wife, Annette White, died in 2010.
Her passing, coupled with the rising cost of stamps and the difficulty in finding addresses in a shrinking phone book, made the task harder each year, he said.
White's farewell ad sparked a movement.
Roman Life Editor Severo Avila received a Facebook message from a stranger who saw White's ad. She suggested that Avila ask readers to send cards to him this year.
"I never expected this," White said. "It's a surprise to see all these cards. I recognize some of the names but many of these people I don't know."
Avila said he was most surprised by the different areas of the community that responded.
"I knew we'd get cards from people who knew Ralph and his wife, but I didn't think I'd get cards from businesses and local civic groups, garden clubs and especially from schools," he said. "We got boxes and boxes of handmade cards from school kids. That was really cool to see."
Some cards came from offices and businesses where all the employees signed them. Local school kids sent cards, hand drawn pictures and even paintings. Other cards contained gifts and trinkets.
"For them to take the time to do that for someone they probably didn't know was very nice to see," Avila added.