Merry Christmas: Readers share Christmas Memories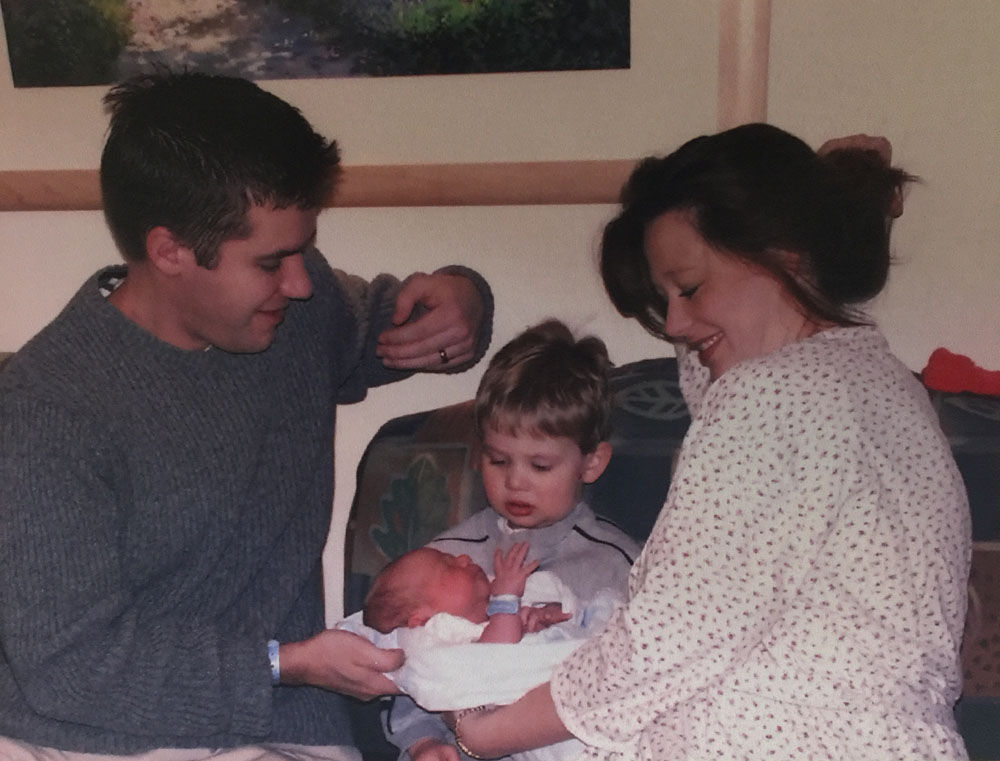 The Rome News-Tribune asked our readers to share their Christmas memories with us. Whether it be a newborn child, a store owner going the extra mile or celebrating Christmas during hard times, our readers shared the moments special to them and those they love.
Celebrating a Christmas birth
My favorite Christmas memory was in 2003. God blessed us with Kaden Stephen Pajor on Christmas Day. We weren't ready. Our oldest, Ben, at the time had just turned 2. This was a big Christmas for him and we loved how excited he was about Christmas morning. I woke my husband Jeff up (5 a.m.) and said we need to wake Ben up — I'm in labor!! And I'm not going to the hospital until Ben has Christmas. That year's Christmas pictures were hilarious. I think my husband captured every labor pain. I go to the hospital — so amazed at the family and friends that spent Christmas Day with us there. Kaden was born that afternoon. When I held him there was something extra special, some little spark about him. Kaden will be 13 (today). He is special, ask anyone who knows him. My best Christmas memory is Kaden. The next year, Ben asked Santa for another brother.
A special man shows kindness
At holiday time, our hearts often turn to the dear ones who will be celebrating Christmas in Heaven this year. One of these special people is Joe Gittings, a wonderful husband, father, Boy Scout leader and businessman — a legend at Ford, Gittings & Kane for as long as I can remember.
One Christmas, my Daddy, Horace Cline, had ordered a special gift from Mr. Gittings — a present for my mother, Jackie Cline.
When my Daddy made his last shopping trip from Cave Spring to Rome, the watch had still not arrived.
Just before closing time on Christmas Eve, Santa made one last delivery to Ford, Gittings & Kane, and in that last-minute delivery was my mother's watch. But it was already night and there was not time for Daddy to slip away to make the trip to Rome to pick up mother's gift.
It was around 8 a.m. on Christmas Day when the front doorbell rang. Who could it be? There at our front door stood Joe Gittings.
Joe Gittings had risen early on Christmas morning and driven from Rome to Cave Spring to make sure that my mother had a Merry Christmas. That's the kind of person he was.
On this Christmas Day, my dear mother is celebrating Christmas in Heaven, too. Maybe she and Mr. Gittings are reminiscing there, as we are here. I will go to my mother's jewelry box and carefully lift out that gold watch. Mr. Gittings kept it running for years, but it no longer keeps time. But I will wear it, and we will tell the story again, giving thanks for happy memories, for dear friends and for the promise of Heaven that came in the birth of Jesus.
Sis looked like an angel
My memory is 65 years old. When I was 6 and my baby sister was 3 years old, we were in a church Christmas program. When my part was over I went and sat down next to my parents.
All the rest of the kids came out on the stage. They had on white cotton aprons (they were angels). My sister stood there with her curly, golden blonde hair and was the prettiest thing. The stage was dark and then two lights came on and it made her hair look like a golden halo around her head. She was just beautiful. They sang "Away in a Manger."
For 65 years, every time I hear "Away in a Manger," I remember my baby sister singing it. My sister (Linda Jessee, Norcross) is still my baby and still a sweet and beautiful angel.
Toy stove brings joy
As a child, I lived on a small farm. My dad farmed and my mother was a homemaker so there was never much extra money for gifts at Christmas. Santa usually brought fruit and candy for our stockings along with a doll for me and a toy truck or gun for my brother. We did not usually ask for more but when I was 4 years old I had a great desire for a toy stove.
On Christmas morning, I was happy with my stocking goodies and my doll. My dad said, "Well, what is that over against the wall?" When I saw the tiny, tin stove, I was astounded and overjoyed. There were little pots and pans with it, and the oven door actually opened. I spent many happy hours playing with the little stove, and at age 80 I still remember the wonder I felt that Santa Claus knew I wanted a stove for Christmas. I also recall the wonderful Christmas fragrance of the two wooden crates of apples and oranges that were kept in the cold back bedroom during the holidays. Few material things, but happy times.
Playing with Fred and Barney
This is a memory that goes back to my childhood, more than 50 years ago. My family put our Christmas tree up a week before Christmas Day. Guess we'd be run out of town these days. Anyway, Fred Flint­stone and Barney Rubble were popular characters at the time. My sister and I had Fred and Barney dolls. At Christmastime they would become salesmen at the magic carpet dealership. The store was located underneath the Christmas tree, with only the lights of the tree to illuminate the room. The magic carpets were represented by small storybooks. We only played this game at Christmastime, and it is still a happy memory.
Generosity prevails
When thinking of Christmas, I always remember one year as a little girl when my parents had very little money. They couldn't afford to buy gifts, so my mom made us a few cloth angels and clothes for our dolls. It was always important for my parents to encourage us to give to each other, and somehow they managed to come up with a couple of dollars for each sibling to purchase a gift for the others. On Christmas Eve, while shopping at Wal-Mart, a gentleman walked up to my mom and asked if they could use a few toys for us girls. He said that he had been handing out gifts all day and that he had a few left which were specifically for little girls. With great gratitude my parents told him that we could definitely use the gifts. My dad followed the man out to his truck and transferred the gifts to our vehicle, hiding them in the trunk so that we would not see them. The next morning I remember waking up with the usual Christmas excitement. In the living room we saw two piles of gifts ... one large and one small. We had never seen so many presents, so I'm sure you can imagine our excitement. After finally settling us down, my parents explained to us that the small pile was from them but that the large pile was sent directly from Jesus. I can't remember everything that was in that pile but I will never forget the feeling that came over me that day. I still get emotional when I remember how God provided Christmas for us that year, and I'm so grateful to my parents for instilling in us the true meaning of Christmas.
We hope you all have a very Merry Christmas as we all reflect on the true gift that was sent to us directly from God ... our savior, a baby named Jesus.
Hard times, but good
Around 1947-1948, my dad, Van Hall, had heart trouble and couldn't work. My mom, Essie, worked at a dry cleaner — making $30 or $40 a week. We were poor, but never heard that word (poor) expressed, as we were much blessed in our family (with) love and togetherness. Eight boys and one girl (Sarah) ... me the youngest, and now me and my brother Glenn are all that's left.
We four youngest all delivered newspapers — Atlanta paper mornings and RNT after school. Christmas was always a time that made us feel even more united as family. Somehow we always managed to have a big tree in the hallway of our house on West Seventh Street (Turner McCall).
We always had a festive Christmas dinner. As a kid I still believed in Santa Claus, or claimed I did so wouldn't miss out on my Roy Rogers gun/holster/cap.
Just before Christmas, Santa Claus always came to the church (Fellowship Baptist) and gave out presents to all the kids.
My oldest brother, Ernest, had just recently bought the house and had moved not only his little family but also housed all the rest of us. Ernest and Olive's love/generosity, I think, is what held us together — along with God's love.
Mother's secret trick
My favorite Christmas memory was the gifts under the tree. It wasn't what was in the package but how it was wrapped. I had four inquisitive children who wanted to know which ones were theirs. I didn't put name tags on the packages and they could not understand how I could remember which one belonged to whom. My children are all grown now with children and grandchildren of their own, but it wasn't until last year that they learned my secret. One of them asked, "Mama how did you tell them apart?" I finally revealed my code. For one, I used all green bows, for one all red bows, for one all white bows and for one all gold bows. They all had a good laugh and couldn't believe that they never caught on.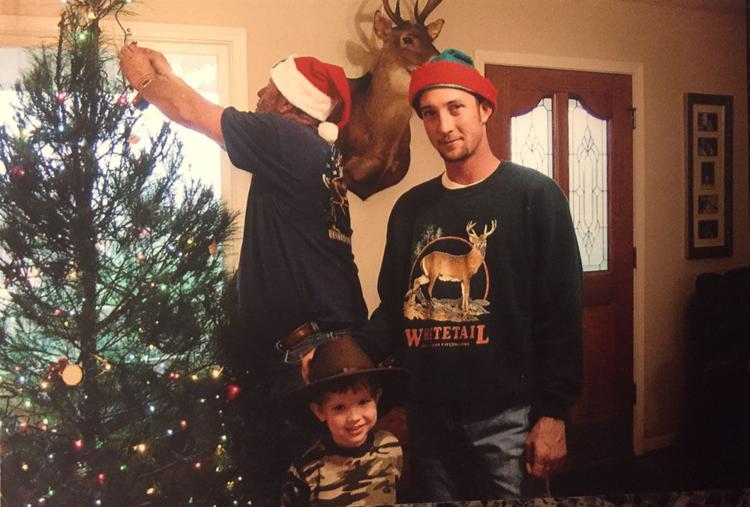 Spaghetti and 'American Pie'
Our family's holiday traditions make for unique Christmas memories. We eat spaghetti on Christmas night at a table set with china and crystal that is only used once a year. We watch "How the Grinch Stole Christmas" and everyone must be quiet else there will be no presents next year. We put a turkey ornament on top of the Christmas tree. No offense to stars or angels but we are a family of hunters; except me, who as a vegetarian eats tofu while looking at the deer heads mounted on the wall. As we decorate the tree we listen to the song, "American Pie." No particular reason except it is a long song after all. My grandchildren thought for years "American Pie" was a Christmas song.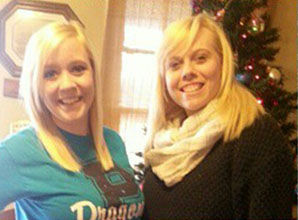 Reunion with a friend
When I was in the seventh grade at Pepperell, a girl named Sammi Maertens moved to my school and we quickly became best friends, practically inseparable. After six months at Pepperell she moved to Ohio. We were both heartbroken. We vowed we would never lose touch and we never did. We always said that one day we would see each other again. Finally, that promise was realized at Christmas in 2014 after eight years of being apart. Sammi was finally able to save enough to drive down and see me. We laughed, cried and had the best time. It was one of the best Christmases and best Christmas gifts I ever had.
Helping with the bill
Our youngest child was born in 1974 with some serious health issues that were not covered by insurance until she was 16 days old. Very quickly we accumulated huge doctor bills for her. At that time, I was working at Southwest DeKalb High in Decatur as a counselor and my wife was a "stay-at-home" mom. The students in that school learned of the financial duress we were under and they collected a very large sum of money to be paid on our baby's hospital bill and presented it to me at a Christmas assembly. It was a complete and total surprise. Our baby was fine, and due to the love and generosity of hundreds of high school students we could remove the fear of bankruptcy from our lives.
Their love along with their gift and the fact that our little one was going to be OK made Christmas of 1974 a very special one at our house.
Fun at Christmas parade
I grew up in Rome. When I was about 4 or 5 years old in 1958 or 1959, my parents took me to the Christmas parade on Broad Street. I climbed into a National Guard Jeep with some of my dad's friends and refused to get out. So, I rode in the Christmas parade in the Jeep. My picture was in the Rome News-Tribune the next day.
Puzzles and leftovers
It was one Christmas in the 1940s when my great-aunt and uncle, who lived in Birmingham, had saved their ration stamps to have enough gas to drive to Cedartown to spend the day with our family.
Their gift to us was a jigsaw puzzle. The next day, my mother said "we're going to take Christmas today. We'll eat leftovers and work the puzzle." That was such a fun time for all of us that it became a family tradition. This year, on Dec. 26 we'll "take Christmas," as mother said so many years ago.
We will eat turkey sandwiches and leftovers and put together the jigsaw puzzle that's already waiting under the tree.
Daughter's first snow
We lived in a split-level house off of Chulio Road. From an upstairs window, there was a beautiful view of the light snowfall that greeted Rome on Christmas Day 1989. I held my daughter, Kimberly, up to the cold window so that she could gaze at the powdery landscape beneath. Her warm hand made a tiny print on the glass. She was 18 months old and this was her first snow sighting.
Then her father called, "Santa Claus came last night!" She took off for the stairs in footed, winter feet and began to call out "caar, caar." Santa Claus had brought her a Cozy Coupe. Jack had the camcorder ready to record the moment as she climbed into the car, and promptly began backing up. Then there was a light bump sound. In her enthusiasm, she had backed into the Christmas tree.
As the weather warmed, the Cozy Coupe moved to the back deck, where she could pedal without a Christmas tree. We are still searching for the VHS "baby movie" of her young years. Maybe it will turn up one day, but for now we still recall the year that snow and a toy car made Christmas special.
Memory from Lookout Mountain
One snowy Christmas Eve many years ago we heard a knock at the door and found our dear friends whose car had slid off the road. Our electricity was off, but our coal-fired furnace kept us warm while we cooked hot dogs and beans over the fireplace. My parents quickly found extra presents and we sang Christmas carols and all woke to a beautiful white Christmas 75 years ago.
Marbles, dolls and fun for all
When I was a child, times were hard, but we were happy. There were seven kids, four boys and three girls, plus Mama and Daddy, living in a three-room house. We were sharecroppers. When Christmas came it was a happy time. We always went with Daddy to the woods to cut down a cedar tree. We made our own decorations. For Christmas we only got one present each. The girls got dolls and the boys got marbles or balls. At Christmas we had different kinds of food. The relatives would bring food, cakes, pies and all the good stuff. We would have enough food to eat all week. Mama was a wonderful cook, she would bake cakes and fix fried peach pies. People would come back a week later asking if any pies were left, of course there wasn't.
I am 82 years old now, but thank the Lord I still remember the good old days and hope I don't ever forget them.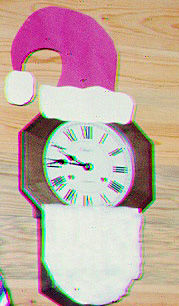 11-year-old created a tradition
We had moved here from North Atlanta with my husband's work and had only been in Rome for a few years.
Near Christmastime our 11-year-old daughter, Jennifer, was bored and wanted something fun to do. I gave her red and white paper and lots of cotton balls. She made a Santa hat and beard for our clock face. That was in 1982.
We still celebrate the beginning of Christmas in the Wiley household, usually Thanksgiving afternoon, with the decorating of the clock. The paper ornaments have been taped and re-taped over the years but are still in good condition.
This is a cherished family tradition, one that has been celebrated in our home over 34 years. Merry Christmas to all.
A cold Christmas in Japan
The year was 1946, I was 19 years old and Christmas was near. I had been in Japan only a few months and the Army was beginning to release draftees and send them home.
Realizing I needed more service time to finish college on the GI Bill, I extended my time by one year. Then, I had to notify Margaret and my family that I would not be home for Christmas, nor for Margaret's graduation. Special Services arranged for six days of R&R at the Aso Kanko Hotel on Kyushu Island. The weather was fair in Kobe; we still wore khakis and did not change to woolens. Unzen was 350 miles southwest and would be warm there. Bad decision.
With sixteen inches of snow on the ground and hot water bubbling up in numerous places around, we were warned to stay on marked paths. One day a bus took us up on Mt. Myoken, looking over Mt. Unzen-Fugin.
A good way to spend Christmas if you can't be home.
Santa magically disappears
As we left Rome from Redmond hospital, about midnight, I said "go by Trinity United Methodist Church and see if the animals are still there."
I love animals (in the live Nativity scene) and the little girl in me wanted to see them. The actors had gone home. It was quiet and misty with some rain. I prayed and asked God to heal my parents; that is all I wanted for Christmas. My daughter who was 17 at the time said, "Mom, look!" There out of nowhere was a real-looking Santa kneeling down at the manger where Jesus lay. We walked up to say hello but as we took a few steps he was gone. We looked for him. We even called and asked if the church had a Santa as part of the scene. The answer was "no." I teach at a Christian school and when young children ask "Is Santa real," I say, "Yes, I believe in him but real Santas know Jesus is the reason for the season."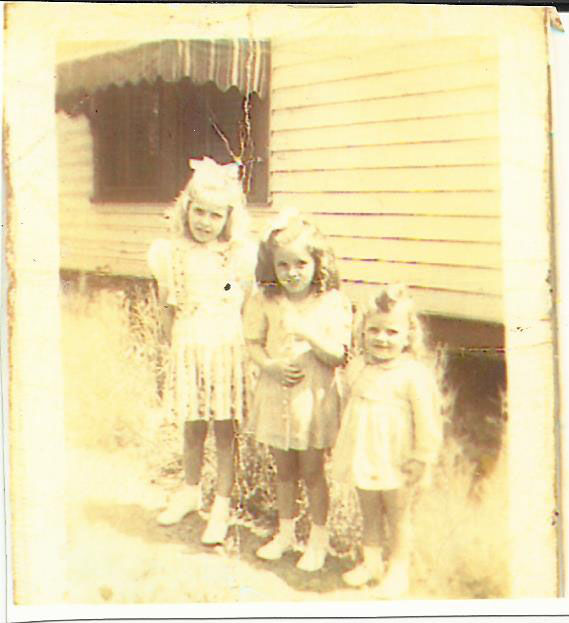 Wagons went too fast
When I was a child, all of our Christmases were special. One Christmas, Santa brought a little red table with two chairs to be shared by my sister Dot and myself. But, Dot didn't want to share. She walked around the house all morning carrying the table so that I couldn't sit down and eat the delicious nut cake that mom allowed us to have for breakfast on Christmas morning.
Each Christmas, mom would give dolls to me and my sister Gala. Dad would give us a shiny red wagon and a pair of cap pistols with holsters. We would spend hours chasing each other around the house playing "cowboy." The first one that was shot was the good guy; I was usually the "baddie."
In front of the house was an old road with a small hill. It gave us a pretty fast ride, but one day we decided to go further into the woods to find a higher hill. We thought we could steer our wagon around the trees. Boy, were we wrong. After a few scrapes and bruises and a much dented wagon, we decided that small hill was just fine.
I thank God for all the love and blessings that he has given me throughout my life.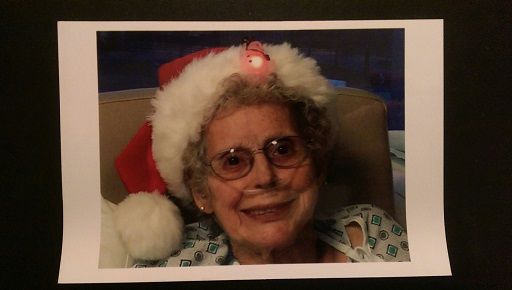 Finding joy among sadness
Christmas of 2013 was an extremely difficult time for our family because after battling many years of congestive heart failure, my mother had been informed, nothing else could be done and it would be a matter of time before she passed away.
During the time of this news, mother was in Redmond Regional Medical Center on Christmas Eve and Christmas Day and I was determined to make the best of what was a sad time. We laughed, sang songs, opened presents and even cried. It was a memorable Christmas yet very emotional. Two months later to the day, February 25, 2014, mother passed away and is now celebrating Christmas with the greatest gift ever known to man ... Jesus!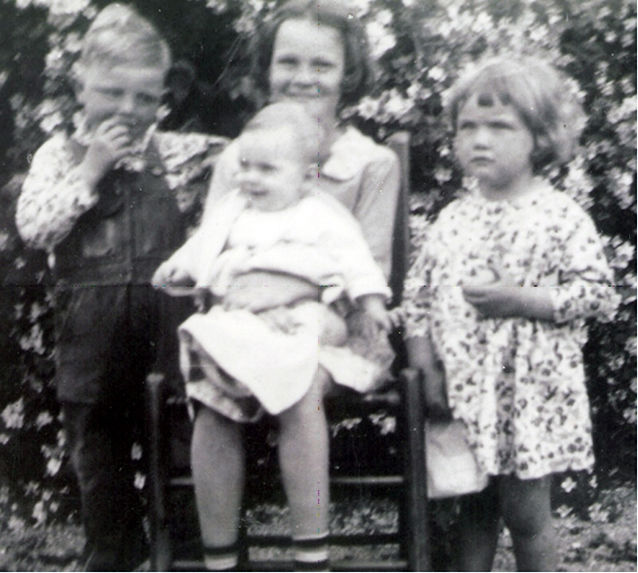 A Christmas wish
Growing up I had nine brothers and sisters. We lived in the "flatwoods" (adjacent to Berry College land) with no running water and no electricity. We used kerosene lamps and outhouses! We didn't have fancy things, but we were happy and loved each other. We didn't even know we were poor. Our family meant everything to us because our nearest neighbor was three miles away.
My youngest brother Robert, but we called him Tommy, was about 10 years old and he wanted a little red wagon for Christmas. He had his heart set on that little red wagon. Tommy told daddy that he could haul fire wood for the fireplace and wood for Momma to cook in the wood stove. He told Daddy he could haul water from the well and keep the water buckets filled. He told Momma he could gather eggs from the henhouse and bring them to the house for her to use, and after the cows were milked he could haul milk from the barn to the house. Tommy said he could do all kinds of things if he just had a little red wagon.
Well, Daddy was always playing jokes and teasing all of us. He told Tommy that he talked to Santa about a little red wagon for Christmas. Daddy said Santa only had one little red wagon left, but it only had three wheels. Tommy was so excited, he said that did not matter. He said Daddy could make a third wheel out of wood because Daddy was a wonderful woodcarver and was always making something from wood.
Early Christmas morning (before daylight) Tommy woke up to check under the Christmas tree. There was a brand new red wagon with all four wheels. Tommy was so excited. He had one knee on the wagon and pushing with his other foot all through the house. He woke up everyone in the house bumping into tables and chairs. Each one of us had to take turns letting him pull us through the house and yelling to the top of his voice, "My red wagon has all four wheels."