Local author, filmmaker collaborate on new documentary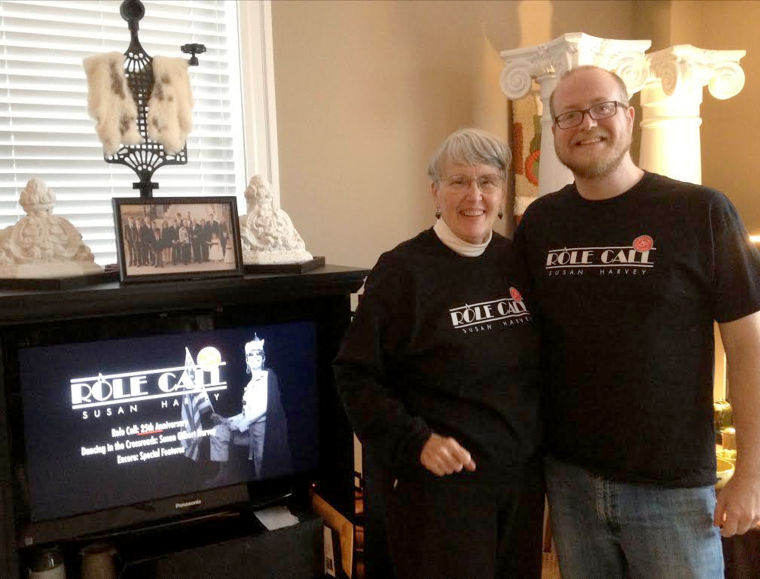 Rome art patrons may know the name Susan Gilbert Harvey well, but they're about to learn a whole lot more thanks to a new DVD and documentary about the local artist and author.
Harvey, and local filmmaker Brian S. Armstrong, have collaborated to produce a DVD production called "ROLE CALL: the 25th anniversary edition" as well as a documentary called "Dancing In the Crossroads" — both are based on Harvey's life as an artist, but come from different angles.
"Role Call" is a retrospective of Susan Harvey's work as a sculptor and performance artist. In it, Harvey presents her life as an artist in a "humorous adult fairytale." Her costumed characters include Junk Woman, Monk Woman, and the Lunatic Moth. Armstrong has added music and sound to the Harvey slide show that entertained audiences across the country in the 1980s and 1990s.
"Role Call is my side of the story," Harvey said. "It's how I went from Southern Belle to junk woman."
"Dancing In the Crossroads," on the other hand, is Harvey as seen through they eyes of other artists and community members. Armstrong interviewed, among others, Tommy Mew, Jon Hershey and Allen Bell, former director of the Rome Area Council for the Arts. The documentary also includes archival videos and photographs. Featured events are Standing Ovation, the annual egg stand on Clocktower Hill in Rome, the Birth of the Lunatic Mothettes on the spring equinox in 1989, and the "Dotty Birds" performance in 1992.
"People have always seen me as a bit eccentric, although I lead a rather normal life," Harvey said. "But there's always been this other side to my life. My art has never been just 'pretty art.' I've done work about the Cherokee Indians, the Trail of Tears and political subjects including the women's movement going on in the 70s."
Harvey said the DVD is a way to preserve her story and to share that with others.
"I've never censored myself," she added. "There's no holding back with me so this may not be for everyone. It's off-beat, that's for sure."
Armstrong is a documentary filmmaker whose credits include the documentary, "Rosie: stories from the Homefront," produced at Georgia Highlands College in 2011. In 2012 he produced a documentary about the Rome Symphony Orchestra. Armstrong is currently media producer for Georgia Tech in Atlanta.
Harvey exhibited her artwork nationally for 30 years. She was the first visual artist placed on the Georgia Touring Roster by the Georgia Council for the Arts for her Role Call show. Harvey has written two books: "Tea with Sister Anna: a Paris journal" and "Postmarks: the summers of '98."
 The "ROLE CALL" DVD is available at Living and Giving, the Last Stop Gift Shop and Dogwood Books and Antiques.