Cherokee flutist Tommy Wildcat to perform at RIFF, Chieftains Museum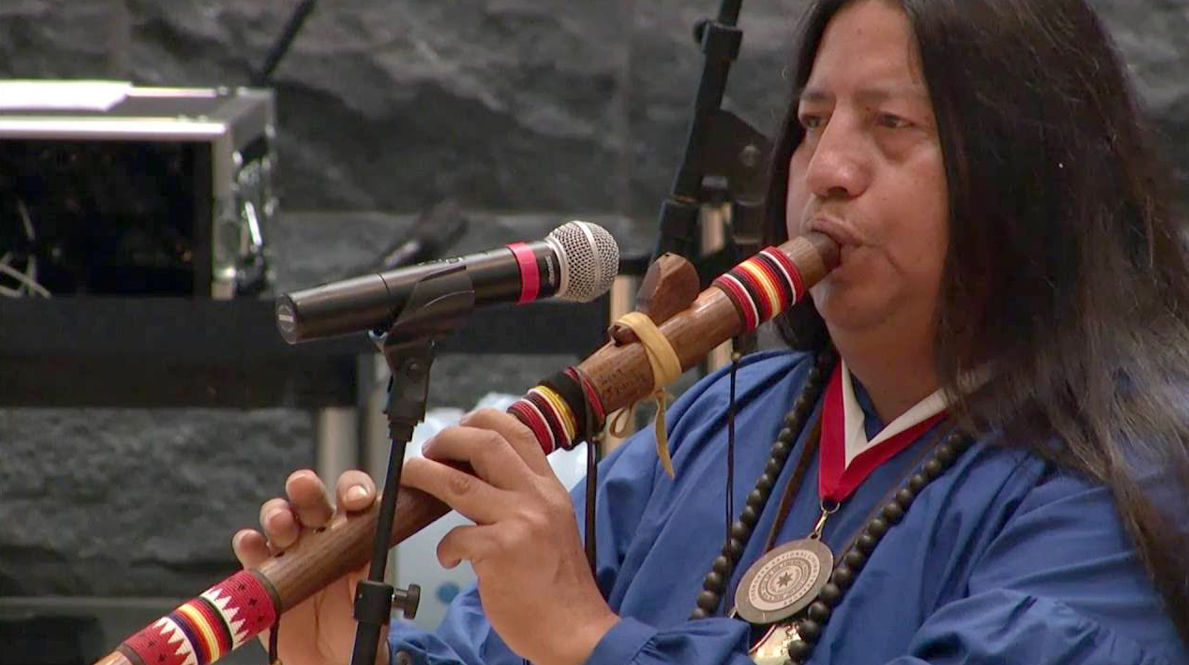 Chieftains Museum/Major Ridge Home will partner with the 14th Annual Rome International Film Festival and the Georgia Humanities Council to bring internationally-known Cherokee musician Tommy Wildcat to Rome for two performances the week of Nov. 9-12.
Known for his flute music, Tommy Wildcat has promoted awareness of Native American culture since 1988. A member of the Cherokee Nation in Oklahoma, Wildcat has appeared in numerous television specials and movies. He travels extensively across mainland America each year performing at cultural festivals, pow wows, historic museum sites and colleges as a featured artist.
In 2013 the Cherokee Nation honored him by naming him a "National Treasure" for his flute music and flute making (river cane flutes). The title National Treasure is awarded to those Cherokee Nation Citizens who have dedicated their lives to, and have made significant contributions to Cherokee history and culture.
The Rome community can hear Wildcat prior to the opening film at the 14th Annual Rome International Film Festival at the Historic DeSoto Theater on Nov. 9.
The festival has chosen "Mankiller" as the opening film for this year's event. A biographical film created by veteran filmmaker Valerie Red-Horse Mohl and Executive Producer Gale Anne Hurd, "Mankiller" chronicles the political career of Wilma Mankiller, the first woman to be elected Principal Chief of the Cherokee Nation in 1985. The film screening begins at 7 p.m. and will be preceded by a musical performance by Tommy Wildcat.
Tickets for the opening film screening are $15 and can be purchased on the festival's website at www.riffga.com.
 On Nov. 11, Chieftains Museum will host a free day from 11 a.m. to 4 p.m. to celebrate Native American Heritage Month on the museum campus — 501 Riverside Parkway.
Visitors will receive free admission to tour the museum and complete activities inside. Participants can also enjoy a performance by Tommy Wildcat at 1 p.m. to celebrate Cherokee culture through music followed by the creation of wildflower seed balls at 2 p.m. to promote stewardship and conservation of the land. This event is free and open to the public.