Art Market: Mother, son duo wire funky jewelry together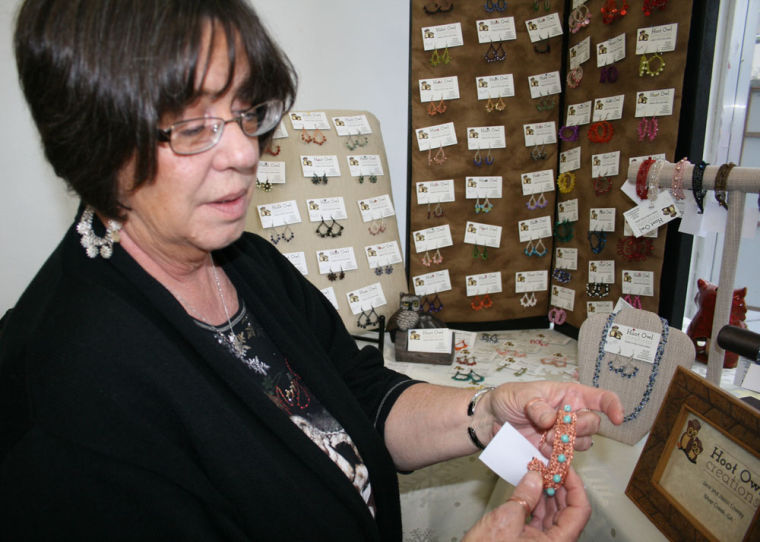 Jane Lowery of Silver Creek picked up her first crocheting hooks at 16 when her aunt showed her how and got her start making cotton and woolen potholders, afghans and other handmade goods.
"I've been crocheting for over 30 years, and I've always done crafts my entire life," said Lowery as she stood in her Hoot Owl Creations booth among the other artists at the Cotton Block Art Market on Saturday. "But I wanted to do something different."
So about two and half years ago, her medium changed from soft yard to the more stiff and metallic silver and copper wire.
Now, she uses the same techniques she learned as a teen to make drop hoop and spiral earrings as well as thick, netted bracelets and necklaces that she sells at local craft and art shows.
"I had some craft wire, so I started playing with it. I took me about six months, and this is what I came up with," said Lowery as she looked over her beautiful costume creations of silver, colored copper, seed beads and semi-precious gems like turquoise, onyx and obsidian.
"I went to the gem and bead show last year, and went nuts," added Lowery.
Lowery said each of her items, priced as low as $6 for earrings and $30 or more for necklaces, can take from a few minutes to a few hours to create. Each of her creations is unique and unusual.
"Some of the more intriguing things like necklaces can take a little bit longer," said Lowery. "But I like to try
Lowery, who is the office manager at Grace Manufacturing, said she decided on the name of her Hoot Owl Creations "second job" because of her longtime collecting of anything owls.
"I've been collecting owls for about as long as I've been crocheting … since the '70s," she said.
But Lowery isn't the only one to dive into the creative market. She said her son, Jason Lowery, helps to create some of the pieces.
"He helps me put some of the ear wires and clasps on the bracelets," added Jane Lowery. "He's also my social media director and helps maintain the web site."
The small crafting business has become a true family affair for the mother-son duo, and the two have set up work stations at their Silver Creek home to work on the jewelry.
"It's taken over the house," laughed Jason Lowery as he started helping his mom in the booth Saturday.
Jane Lowery said that although the Cotton Block Art Market was the last stop for the two at shows this year, they still would be busy working on stuff for the new year.
"I have two seasons of being really busy," laughed Jane Lowery. "The summertime and then of course Christmas."