Annual Darlington lectureship to feature composer and artist Scott Kirby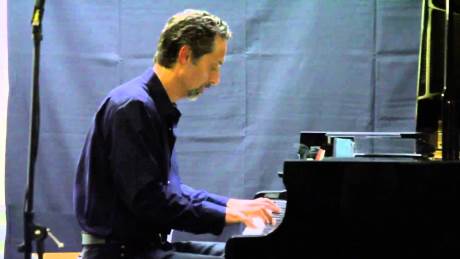 Composer, pianist and visual artist Scott Kirby will be the eleventh speaker in Darlington School's annual Class of 1953 Lectureship Series. He will address Upper School students and faculty on Wednesday, Feb. 26, at 10 a.m. in Morris Chapel. This lecture is free and open to the public.
According to co-class agent Mike Luxenberg ('53), the lectureship was established in April 2003 to commemorate the class' 50th reunion. "It was a wonderful opportunity for each of us to help Darlington continue its tradition of providing an outstanding education for all students, and also a means for us to say 'thank you' for the fine education we received at Darlington," Luxenberg said.
A native of Ohio, Scott Kirby began his study of music at the age of 6, and continued formal piano instruction for 17 years. He worked under Robert Howat of Wittenberg University of Ohio and Sylvia Zaremba at the Ohio State University. After obtaining an English degree from Ohio State University, Kirby moved to New Orleans and began his professional music career as a street performer. In the following four years, he recorded the complete rags of Scott Joplin, and made his debut at all of the major ragtime festivals in the United States, as well as festivals in Belgium, France, Norway, New Zealand and Hungary.
Kirby has served as musical director of the Scott Joplin Ragtime Festival in Sedalia, Mo., and of the Rocky Mountain Ragtime and American Music Festival in Boulder, Colo., as well as director of the San Juan Islands Ragtime Institute. His appearances include a segment on "CBS News Sunday Morning with Charles Osgood" in 1998, during which Osgood said, "…Critics call Scott Kirby one of the best interpreters of ragtime music on the scene today." He has also spoken at the Smithsonian Institute in Washington, D.C. Kirby co-founded a record company (Viridiana Productions LLC), has made 25 recordings, and has composed over 150 original works for piano and other instruments. Admired by fellow pianists, including George Winston, Time Magazine has called him an "ace pianist." 
Kirby's artistic passion eventually grew to include to visual art. In 2005, while living in France, he completed 75 paintings and 28 piano compositions, including "The Prairie Devotionals." The paintings (belonging to a set entitled "Visions of the Great Plains") and the new musical works set the groundwork for his new multi-media project "Main Street Souvenirs."
"We are so grateful to the members of the Class of 1953 who have made it possible to bring Scott Kirby to Darlington," said Vicki Vincent, director of alumni relations. "In addition to giving his lecture, he will also be visiting several of our fine arts classes. It will be a unique opportunity for our students to make a connection with someone who has turned his passion into a successful career."
Kirby lives in Boulder, Colo., and divides his time between composing, painting, performing and teaching.