Lawler still waxes political after 37 years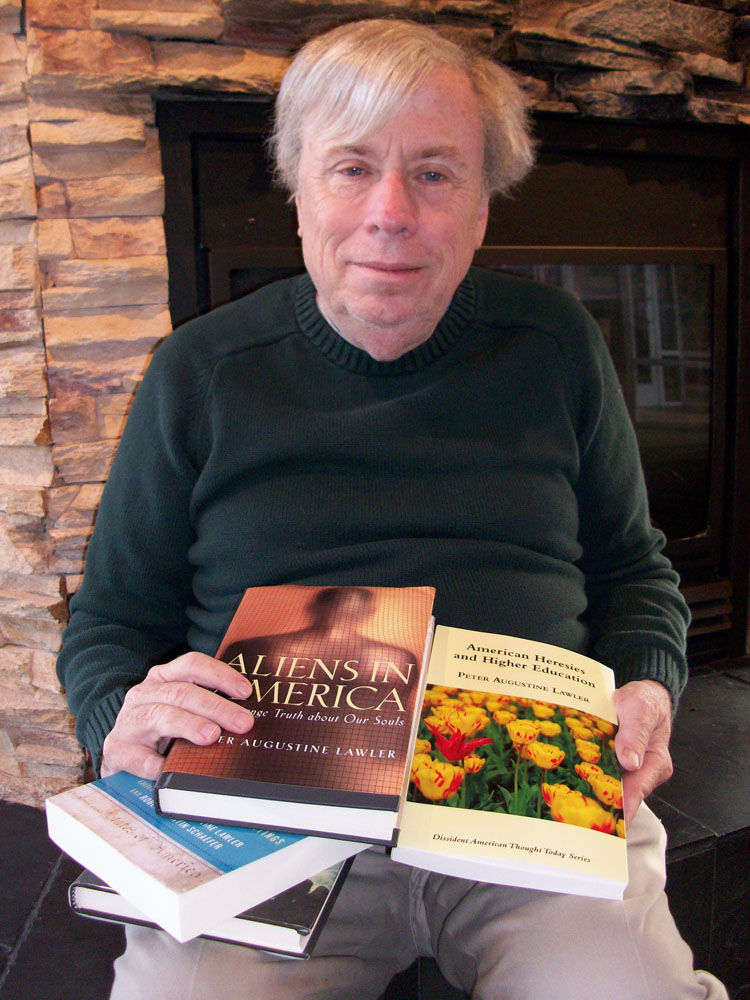 On any given evening when the weather is decent, Rome's Peter Lawler can be found sitting outside one of Broad Street's restaurants dining and quietly watching people walk by. But it's just as likely that he is speaking about political philosophy at an Ivy League school, working on an article for an esteemed political science journal or writing a chapter in his latest book.
Lawler, Dana Professor of Government at Berry College, has been teaching politics and political philosophy for nearly four decades.
Lawler said he's been teaching so long that he doesn't really remember the reasons why he embarked on teaching.
"I don't know. Do I enjoy it?" he said, with a grin. "You enjoy telling the people the same things time and again and it's new to them."
Rick Woodall graduated from Berry College in 1993 with a major in communication and minor in political science. He now works for Berry as the acting director of philanthropic communications. Lawler taught many of his courses, and Woodall recalls many fond memories of his professor.
"Dr. Lawler inspires fierce loyalty and admiration among his students," Woodall said. "You might even call us disciples. You would see the same faces in his classes, year after year. I think I took eight political science courses in my four years at Berry, and six were with him. We've always had great political science professors at Berry, but there was something that just drew me to him.
"His intellect and insight are legendary and not limited to politics," Woodall said. "After the Braves lost game seven of the 1991 World Series, I took a moment at the beginning of one of his classes to complain about Lonnie Smith's failure to score what appeared to be a sure go-ahead run in the eighth inning of an eventual 1-0 win for the Twins. Dr. Lawler perceptively noted that had Smith scored, events that followed might have played out differently, thus leading to the same outcome — a Braves defeat.
"It didn't make me feel any better at the time, but I still marvel at the fact that he took the time to address the topic. That's just the kind of professor he is."
Woodall said that even though it's been well over 20 years since he last had a class with Lawler, he still remembers so much of what he learned from him.
"I love the fact that the door to his famously messy office was always open to students wishing to delve deeper into the topics we discussed in class,' he said. "All these years later, I can still remember things he taught us in class, said in his office and wrote on my papers. I've always credited him with teaching me how to think — not what to think, mind you, but how to think. It was a privilege to learn from him."
In addition to being a beloved professor, Lawler is an author and an editor. He has written or edited about 18 different books. His book "Modern and American Dignity" helped earn him the award of 2010 Georgia Author of the Year. His books such as "Postmodernism Rightly Understood," "Aliens in America," "Stuck with Virtue" and "Homeless and at Home in America" have received numerous positive reviews. And Lawler's "American Political Rhetoric" is used in introductory American government classes at various colleges and universities.
Lawler has lectured at roughly a hundred colleges and universities across the United States, including Yale, Harvard, Princeton, the University of Georgia, the University of North Carolina at Chapel Hill, Notre Dame and Villanova, to name a few.
"All the basketball powers," Lawler joked.
In 2004, President George W. Bush named Lawler to his Council on Bioethics, which dealt with areas in caregiving, organ transplants and end of life issues. He served on the committee until 2009 when the council was discontinued.
He was recently named editor for the historic and influential quarterly journal "Modern Age."
Lawler also is a frequent popular blogger, writing for "Rightly Understood" at Big Think and "Postmodern Conservative" at National Review Online.
"It's exciting whenever Dr. Lawler shares his expertise in the national media, and it's always intriguing to see what he has to say," Woodall said. "Even after all these years, I think it's safe to say I'm still learning from him, whether he's talking about political discourse or pop culture. He's a true credit to Berry."
During the recent presidential race, Lawler often penned his thoughts on social media, sharing various perspectives of different political scientists, as well as his own. It was a painful race for many to follow.
"America was grossly divided,' Lawler said. "First time students wouldn't talk about the election."
Lawler lives in Lindale with his wife, Rita. They have a grown daughter, Catherine, who lives in Decatur with her husband and their two young children. So in addition to being a valued professor, Lawler now holds the title of beloved grandfather. He takes more trips to the museum, plays chess and Wiffle Ball with his grandson and plays in the leaves and with Legos with both his grandson and granddaughter.
He also still teaches a full load of classes and hasn't seemed to slow with age. He admits that the time to take it a little easier may come one day.
"I don't know, maybe," Lawler said. "I'm getting old. … But no one retires anymore."
Lawler grew up in the Washington, D.C., area — "mostly in Alexandria, Virginia, as his father worked for the Central Intelligence Agency. He has spent about three decades in his adopted home of Rome.
"Rome's always been good," he said. "It's a good size. I've always liked Broad Street."
"You don't know everyone. … It's just big enough to be more or less anonymous," Lawler said, with a smile.