Shorter University's STAR Alpha Chi Chapter inducts new members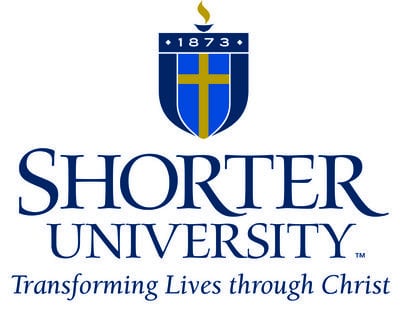 Fifteen Shorter University students, all ranking within the top 10 percent of the junior and senior classes, were inducted into membership in the university's STAR chapter of the Alpha Chi national honor society on Friday, Oct. 23.
Alpha Chi, whose national motto is "making scholarship effective for good," combines high achievement in academics, good character, good models of citizenship and leadership. It is only open to top 10 percent of juniors and seniors academically. As a member, students have access to scholarships and the opportunity to present at the Alpha Chi national conference.
The Fall 2015 inductees were Hannah Coffey, a nursing major from Ringgold; Elizabeth Dowd, a biology major from Dothan, Ala.; Daniel Farias, a communication arts major from Windham, N.H.; Cheyenne Frady, a communication arts major from Ellijay; Erin Gould, a biology major from Newnan; Mark Green, a management major from Lindale; Ashtin Hyde, a communication arts major from Rome; Sarah Jenkins, a nursing major from Cartersville; Breanna Landers, a math education major from Lindale; Stephanie Marrero, a psychology major from Irondale, Ala.; Allison Miller, a political science major from Griffin; Anthony Nordman, a political science major from Newnan; Maggie Pruitt, a communication arts major from Roswell; and Julia Raymond, a nursing major from Woodstock.
"I am truly proud of these young academic leaders who also display strong character to provide service to the university and community," said Dr. Kathi Vosevich, Shorter's associate provost and Alpha Chi sponsor. "They epitomize the best of what Shorter can produce, and I believe that they will be among the ones who can change the world for the better."
Also recognized during the ceremony were the Spring 2015 inductees: Laura Ayres, a computer information systems major from Flintstone; Rebekah Buran, a psychology major from Dallas; Kaitlin Burton, a chemistry major from Cartersville; Kendall Johnson, an interdisciplinary studies major from Chickamauga; Tabea Kirchner, a mathematics major from Dettingen, Germany; Brien Lancaster, a sport management major from Wilmington, N.C.; Cody Moore, a biology major from Huntsville, Ala.; Maggie Sheffield, a business administration/marketing major from McDonough; Leah-Joy Smith, an English major from Rome; Kathryn Walker, a Spanish major from Newnan; Bailey Wheeler, a middle grades education major from Dallas; and Laura Whitlow, a math education major from Rome.
The 2015-2016 officers for Alpha Chi are Sarah Geil, president; Elle Ryan, vice president; Rachel Butler, secretary; and Stefanie Starkey, treasurer. Geil is triple majoring in English, psychology and liberal arts; she is from Kennesaw. Ryan is double majoring in history and liberal arts; she is from Marietta. Butler, of Eva, Ala., is a biology/pre-medicine major. Starkey, of Summerville, is double majoring in criminal justice and English.
The Shorter chapter's activities have earned it recognition from the national Alpha Chi organization as a STAR Chapter for the past six years. This means Shorter is in the top 10 percent of schools in the nation, which Vosevich calls "a rare privilege and opportunity." She also said the president of the National Alpha Chi refers to Shorter as a model for other chapters.
Vosevich added that each year three to five students from Shorter take part in the national Alpha Chi Convention, and each year Shorter has had winners. In the past few years, they have had three major scholarship winners and four category winners. "For a small school, that is outstanding, because we compete with big schools and for us to do so well nationally is a statement of how good our academics are here at Shorter," she said.
In addition, Vosevich has made presentations at the national convention two years in a row on how to have a good chapter and how to get more people involved. She serves as ad hoc member of Alpha Chi's national committee.