Floyd Auxiliary makes record donation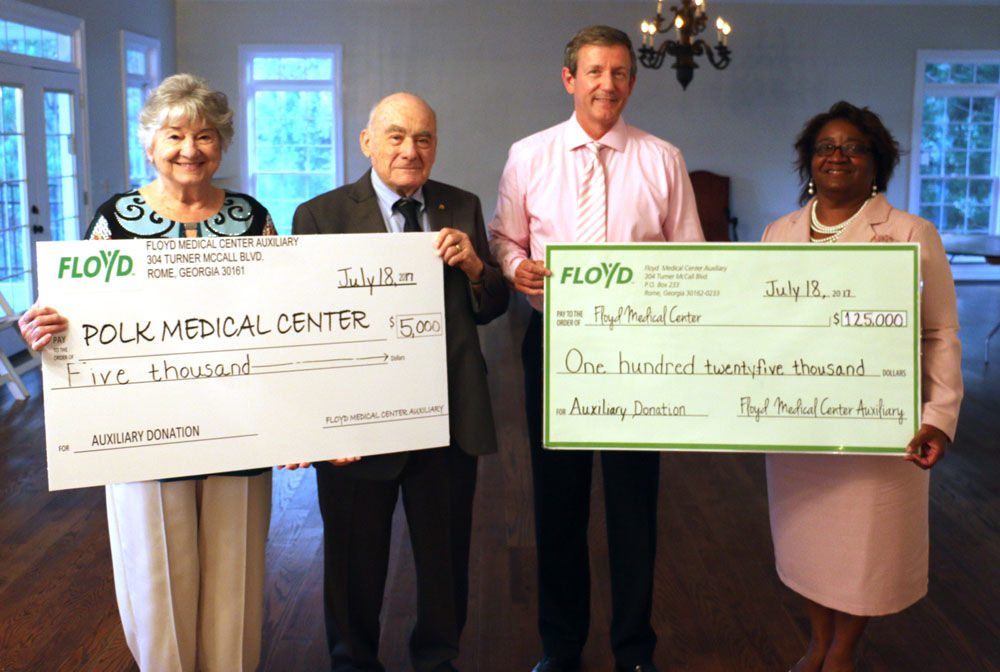 Floyd Medical Center Auxiliary President Betty Ford presented Floyd President and CEO Kurt Stuenkel with checks totaling $130,000 at the group's annual meeting.
The Auxiliary also inducted new officers for the coming year. Ford and Betty Kirkman were installed as president and vice president, respectively, while April Van Es was named secretary and Cathy Johnson was inducted as treasurer.
Additionally, long-term volunteer service pins were presented to 37 volunteers, including Blanche Ruston, who was recognized for 13,000 hours of service. Ruston, who celebrated her 100th birthday this year, recently received the Good Samaritan Lifetime Achievement Award for meritorious service as a volunteer.
"Blanche is an inspiration for all who give their time to serve others," said Amy Astin, director of Floyd Volunteer Services. "Even after celebrating her 100th birthday this year, she still gives of her time to help our patients and their families."
Other pin recipients include Danielle Allen, 10,000 hours; Mary Jane Nordeman, 7,500 hours; Rose Remington and Joanne Forsberg, 7,000 hours; Ruth Wilkins, 6,500 hours; and Cathy Johnson and Rochelle Teat, 5,500 hours.
Other volunteers recognized were Clara Mattingly and Jan Osborn, 4,500 hours; Lola Barnes, 4,000 hours; Betty Bishop, 3,500 hours; Dennis Nordeman, Dottie Rowles, Pat Russell and Janice White, 3,000 hours; Wanda Ingram, Betty Larson and Barbara Molnar, 2,500 hours; Lori Armstrong, Betty Baker, Bill Baker and Jessica Smith, 1,500 hours; Karen Barger, Carolyn Blackmon, Vera Brock, Charlotte Earwood and Jane Stansell, 1,000 hours; and Carol Green, Linda Hayes, Jacqueline Leonard, Phyllis McClain Glenn Mitchell, Jean Ritter, Lester Ritter, Andrea Turner and Elaine Turner, 500 hours.