Booth Western Art Museum to unveil Civil War-era cannon as part of birthday bash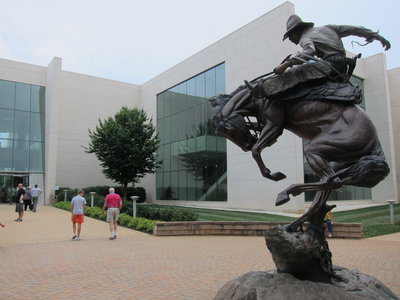 CARTERSVILLE – As part of Booth Western Art Museum's Birthday Party and Member Appreciation Day, on Saturday, August 23 the Museum will unveil the newest addition to the War is Hell Civil War Gallery, a circa 1863 Napoleon twelve-pound cannon.
At 2:30 pm, members and guests are invited to join Congressman Phil Gingrey, M.D. of Georgia's 11th District for the unveiling. Congressman Gingrey and Booth Museum Director of Marketing Tom Shinall will present the 2,300 pound cannon to Museum Members, guests, and media partners and share some information on the piece. The Museum acquired the cannon by way of loan from the U.S. Army Center for Military History and it will be prominently displayed near the entrance of the gallery.
"We are excited that the unveiling will be a part of our annual Birthday Party and Member Appreciation Day," says Tom Shinall, director of marketing for the Museum. "This day is a way for us to say thank you to our members and having the opportunity to share a special moment such as this unveiling makes the day even more special."
The Booth Birthday Party and Member Appreciation Day will provide a day full of fun with entertainment, food, and activities. New this year, visitors can help Master Model Builder, Josh Bohn from LEOGLAND® Discovery Center Atlanta build a masterpiece. In conjunction with the Art and the Animal exhibition, at high noon and 1:00 pm, the Chattahoochee Nature Center will host a Hawk Encounter outside the Museum's North entrance. At 1:30 pm in Bergman Theatre, the eight-sibling family band of Fish N' Picks will perform a mix of bluegrass, folk, hymns, Irish, and country music. Throughout the day two puppeteers will roam the Museum entertaining and interacting with the characters of Tex and Pecos Bill from the Center of Puppetry Arts.
Returning this year to Bergman Theatre, Scott Douglas will host his interactive Native American Music Show at 11:00 am and 2:30 pm and at 12:30 pm Jim Dunham will share his Tales of the Old West. Throughout the day, visitors will be able to listen to the sounds of The Peach Pickers Band, see artist demonstrations by pastel artist Mildred Torres-Speeg, colored pencil artist David McKean, acrylic artist
Amy Watts, and sculptor Pat Burns. Members of the Booth Photography Guild will share selected fine art photography works and children will have the opportunity to create their own hawk, tiger or octopus mask and their very own bolo tie!
In the Booth Ballroom from 11:30 am to 1:00 pm, a traditional hot dog lunch including slaw, chili, onions, chips, cookies, soft drinks, water and birthday cake will be available. Lunch is free for Booth Museum
Members and will be available to not-yet-members for $5.00. At 11:30 am, children are invited to participate in Wrangler Jim Scott's Stick Horse Rodeo and throughout the day, special guest TV Star Art Matters will be available to sign autographs and will be interviewing guests on why they love the Booth!
During the Booth Birthday Party visitors are encouraged to explore the current exhibitions. Art and the Animal is on exhibit through September 7 in the Special Exhibition Gallery. A Complex Frontier: Selected Works by Bernard Williams is on exhibit through October 5 in the Temporary Exhibition Gallery and in Borderlands Gallery, the Booth Photography Guild Annual Exhibition will be available to view after opening on August 19th.
Admission to the Booth Birthday Party and Member Appreciation Day is free for Booth Museum members. General admission is $10 for adults, $8 for seniors 65 and over, $7 for students, and free for active military with I.D. and children 12 and under.
About Booth Western Art Museum
Booth Western Art Museum, an Affiliate to the Smithsonian Institution, is a 120,000 square foot museum located in Cartersville, Georgia, where guests are invited to See America's Story through contemporary Western artwork, a Presidential Gallery, Civil War art gallery, and Sagebrush Ranch, an interactive children's gallery. Open since August 2003, Booth Museum is the only museum of its kind in the Southeast and is the second largest art museum in the state of Georgia. To learn more about Booth Western Art Museum, visit www.boothmuseum.org.