Floyd Teacher of the Year honored at state banquet of top teachers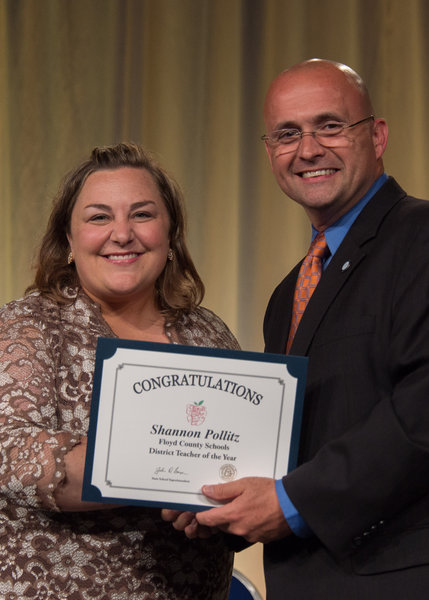 Floyd County Schools Shannon Pollitz was honored for being a finalist for Georgia Teacher of the Year at the Georgia Teacher of the Year banquet held on Friday, May 3 at the Georgia International Convention Center. Pollitz, an English/language arts teacher of gifted eighth-graders at Pepperell Middle School and the 2013 Floyd County Schools Teacher of the Year, was named a top 10 finalist for 2014 Georgia Teacher of the Year earlier this year. The finalists were chosen from a pool of 155 applicants selected as the Teacher of the Year in their school districts.
"I want my class to be active and fun," Pollitz said. "My students know that a simple yes or no response is unacceptable in our discussions because they must share with me the evidence they have examined and how that has impacted their view." The students in Shannon Pollitz's class have embraced the higher expectations she has for them. "She gets everyone in the class involved in discussion, and I like being able to talk about my feelings and what I liked about a question," eighth grader Allie Williams said. "It is fun in her class and not like some drag to have to go - I really like it!" A classmate Jaxon Croy added, "She asks very critical questions and she makes us think beyond the classroom." Eighth-grader Jake Ross agreed, "She likes to know what your thoughts are and I love that about the class because I like to express my ideas." Pollitz sees the teens responding to the heightened expectations. She said, "As teachers, we need to change the way we view teaching or how we have traditionally believed that we should run our classroom and let the children take responsibility for discovery and learning."
This is the second consecutive year that the Teacher of the Year from Floyd County Schools has been named a finalist for the state honor. Alana Ellenburg, a teacher at Pepperell High School, received both honors last year.