Tony's Tires opening in West Rome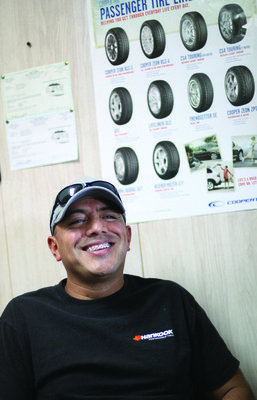 Tony Mejia, owner of North Rome Tires, 5 W. Callahan St., for the last three years, is opening Tony's Tires at 2301 Shorter Ave., the former Jiffy Lube location adjacent to Ryan's Steakhouse.
Mejia said he also plans to change the name of the North Rome Tires shop to Tony's Tires after the first of the year.
The new location will offer Mejia more visibility and he expects to increase his business by at least 30 percent.
"The west Rome location will be open from 6 a.m. to 11 p.m. In the summer time there's going to be three shifts, it's going to have a graveyard shift," Mejia said. He said there isn't a 24- hour tire service center within a hundred mile radius, and with the access at the Shorter Avenue location, it will be easy for people to get tires during emergency after-hour situations.
He's also hoping some folks who shop at Sam's or Walmart across Shorter Avenue might have an opportunity to do some impulse buying when they see his shop is open.
Tony's Tires stocks a wide variety of both new and used tires and offers alignment services as well.