The Tax Lady Accounting Services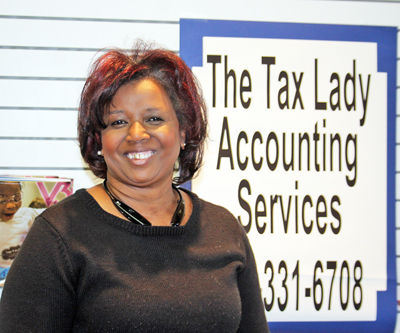 Sheila Hutchings-Abrams, owner of The Tax Lady Accounting Services, answers the questions for today's Small Business Snapshot.
What is the background of your business?
Our chief preparer has over 27 years of experience in the accounting industry, working several of those years for the Internal Revenue Service and a local tax preparation software company. She opened The Tax Lady Accounting Services in 1995.
Why did you start this particular business?
Most people never have the opportunity to work a job they love. My profession has allowed me the flexibility to nurture my family and control my schedule for a career that I love. I enjoy educating my clients with proper tax law and financial advice.
 What makes your business unique?
Our tax office is the first accounting office in the city of Rome to be owned and operated by a WOMAN of color.
What do you love most about your profession?
Despite being a Black woman, I am able to cross color and race barriers. I serve a myriad of ethnicities and creeds. My clients chose me for my skill set and professionalism, not based on the color of my skin.
What has been the most interesting challenge to overcome as a small business owner?
The most interesting challenge was opening with enough capital. Even if your financials are ideal at the time of opening your business, make sure all bases are covered with a capital loan.
Is there anything else you'd like to share with our readers?
We are always accepting bookkeeping and tax clients, business and personal. Give us a call!
Owner: Sheila Hutchings-Abrams