Southwest Airlines donates engine to GNTC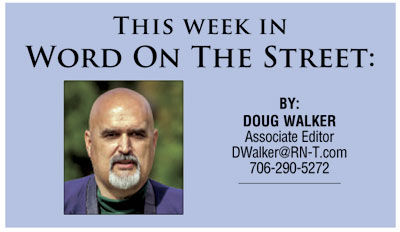 Southwest Airlines recently donated a CFM56-3B1 high-bypass turbofan aircraft engine worth approximately $100,000 to Georgia Northwestern Technical College's Aviation Training Center to provide students with advanced training in troubleshooting, repairing, and maintaining industry-grade aviation equipment.
According to a news release from GNTC, the donation of the turbofan engine will further GNTC's ability to prepare students for a career in the fields of Aviation Maintenance Technology or Avionics Maintenance Technology.
"This is our first turbofan engine, a majority of our planes have reciprocating or piston engines," said Jon Byrd, director of the Aviation Maintenance Technology program at GNTC. "There are so many different systems that we teach that are on this one engine, so we can show students how it all goes together instead of what we have had up until now — individual components."
The Aviation Training Center is at the Richard B. Russell Regional Airport about 10 miles from the Floyd County Campus of GNTC.
Special to the Rome News-Tribune
Pro Health holds ribbon cutting
CALHOUN — Pro Health Wellness Center, at 110 N. Wall St. in downtown Calhoun, held a ribbon cutting ceremony, sponsored by the Gordon County Chamber of Commerce, on July 24.
Pro Health Wellness Center offers a variety of therapeutic services to strengthen the body from injuries and physical pain in every part of the body. Massage services available include deep tissue, relaxing, hot stone, sports, lymphatic, therapeutic, clinical and Swedish. For more information, call 706-625-3585.
Dance school opening in Cedartown
CEDARTOWN — Cedartown residents may have noticed ladders, paint buckets, and renovating activity downtown lately.
That's because that vacant, eye-sore of a building taking up space in on Main Street is being recreated with a new vision in mind: The Cedartown Academy of Performing Arts. Denise Johnson is back after a 17-year hiatus to use her lifelong experience in performing arts to teach various forms of dance including tap, ballet, lyrical, contemporary, pointe, jazz, hip-hop, acting and theatrical dance production.
The Academy, located at 307 Main St., will be officially up and running again Aug. 7, and the academy's grand opening and open house is Sunday, Aug. 6 from 1 to 6 p.m.
The academy itself is an "elite performing arts school with more than 40 years of experience," writes Johnson on her website. Johnson is a certified teacher by Dance Educators of America — meaning she is test certified to teach dance- and provides education "through proper, formal techniques."
This idea is stated best by building owner Jordan Hubbard, who is "excited to get Denise in that building."
"Of all the buildings downtown, this one has been an eyesore for a while," Hubbard said. "We are glad to get it going for her and look forward to seeing the great things she does for the children of Polk County. She has a passion for this business — and it's good to see more folks working with our youth of Polk."
Rome Braves GM shares info with Exchange Club
According to the Exchange Club of Rome's latest newsletter, the Rome Exchange Club was honored to have Mike Dunn, general manager of the Rome Braves speak at their July 21 meeting. The newsletter reported that Dunn gave a lot of interesting information about the Rome Braves team and what it's like to play minor league baseball in Rome. The team plays 140 games in 150 days during the season and the average age of a player is 19. Another interesting statistic is that in the parking lot over this season, they have had cars from 17 counties around Georgia and cars from 15 other states. While this is impressive, Dunn said he will really be impressed if he ever sees a car from Hawaii. This is just one of the ways the Rome Braves tally their effect on the local economy and tourism in the area.
Special to Rome News-Tribune
Associate Editor Doug Walker is on vacation but returns in time for the Aug. 7 Word on the Street.