Law firm hops across Broad Street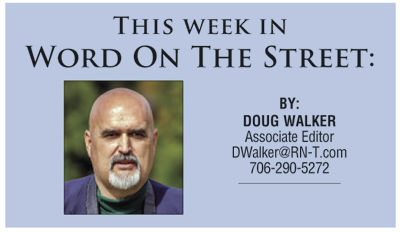 The McRae, Stegall, Peek, Harman, Smith & Monroe, LLP law firm completed its move to new space at Bridgepoint Plaza over the week between Christmas and New Year's Day.
The firm was established in 1899, and had been on the upper floors of the SunTrust Bank building on Second Avenue and East First Street since the bank was built.
The firm currently has 13 attorneys listed on its website, including principals Mike McRae, Jule Peek Jr., Virginia Harman, Scott Smith and John Monroe.
The firm has completely renovated the second and third floors at Bridgepoint with the primary reception area on the third floor.
The new street address is 111 Bridgepoint Plaza, Suite 300, Rome, Ga., 30161, however the firm's mailing address has not changed and is still P.O. Box 29, Rome, Ga., 30162.
Fincher Springs is new wedding venue
Fincher Springs Farm, at 1907 Old Cedartown Road between Rockmart and Cedartown, is one of the newest additions to the destination wedding venues across Northwest Georgia.
A large two-story barn is the featured location for reception-type events. The renovated barn features handcrafted floors and walls with crystal chandeliers providing a touch of elegance. The first floor has private bride and grooms rooms along with a warming kitchen. The second-floor features a wide-open space perfect for dancing.
The venue features a lined grove of mature oak trees, which offers an ideal; shaded setting for a summer wedding. A gazebo anchors one end of the grove.
Another scenic spot for visitors and their photographers is a lake and walking trail complete with benches to provide children or grandparents a place to rest.
Fincher Springs Farm offers all-inclusive wedding packages with a wedding coordinator, photographer, flowers and cake all available
Restaurant makes 'happy' name change
What was previously known as Johnny's Happy Cafe, 4512 Martha Berry Highway, is now being operated as Fat Bottom BBQ.
Stephen and Debbie Ingram purchased the business in the fall to give their competition barbecue team of the same name a brick and mortar place to call home.
"We've got pulled pork, brisket and the best ribs in town," said Debbie Ingram. The restaurant also does rib eyes, chicken and a homemade Brunswick stew. "The only thing we don't do is fish or seafood," Debbie Ingram said.
The restaurants winter hours are 6 a.m. to 8 p.m. Monday through Thursday; 6 a.m. to 9 p.m. Friday and Saturday, and 11 a.m. to 4 p.m. on Sunday.
Johnny's Happy Cafe operated in this location for six years before closing in May of 2016.