Colosseum Escape Rooms coming to Broad Street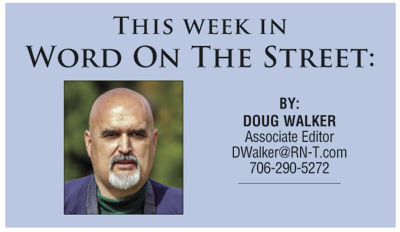 Former Union University buddies Spencer Thomas and Mark Ellison are renovating the former Cycle Therapy building at 608 Broad Street for their Colosseum Escape Rooms business.
An escape room is an indoor maze where participants usually use clues in the form of a puzzle, and generally have a certain amount of time to figure out their way out to be considered winners.
Thomas said the partners hope to open early in December and would initially have hours on Thursday and Friday evenings, most of the day on Saturdays and Sunday afternoons.
"We did an escape room down in Atlanta and a couple in Jackson, Tn., and really enjoyed it. We realized Rome didn't have one," Thomas said. "We thought Rome could use some more entertainment options and we thought an escape room would be great because it's family-friendly and there's a good market for it and there are not any other escape rooms close."
They wanted to take advantage of the continued growth of downtown Rome and were able to find the old Cycle Therapy building which will initially contain two escape rooms which could accommodate up to ten participants at a time
Ellison moved to Rome in 2011 while Thomas is currently a resident of Sandy Springs.
Levy acquires building on West Third Street
Rome businessman Ira Levy has purchased property at 338-340 West Third Street which was previously owned by the late Bernard Neal.
The property sits adjacent to the city-owned 2.14 acre tract just to the north of the Courtyard by Marriott Hotel. Levy was one of three people who submitted a development plan for the city parcel however all of the proposals were rejected by the city.
At this point, Levy said he has no specific plans for the former Neal property. "I've given it to Jimmy Byars over at Hardy Realty to put out there and see what he could find."
Levy said that with passage of the SPLOST earlier this week, he's looking forward to some infrastructure improvements along the West Third Street corridor which might make the property even more attractive.
Levy paid $375,000 for the property which does have one tenant in half of the building. The other half of the building was used by Neal for his own offices.
The Rome-Floyd ECO River Education Center in Ridge Ferry Park will host a program Tuesday night, Nov. 14 at 7 p.m. called Long Live the Longleaf.
Katie Owens, a Nature Conservancy representative based here in Rome will lead a discussion of the on the Longleaf pine species and the importance of regular controlled burns to the trees.
The Longleaf pine ecosystem provides habitat for more than two dozen threatened and endangered species including the gopher tortoise, indigo snake and red-cockaded woodpecker.
Berry College has several stands of Longleaf pine and the college has cooperated in a research program with the U.S. Army Corps of Engineers on the species at Lake Allatoona.
The event is free to the public but people interested in the event are encouraged to call 706-622-6435 or e-mail ewells@romega.us to hold a seat.