Auction spins off three business properties in Cave Spring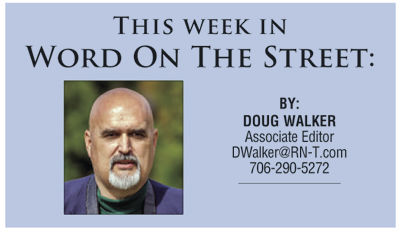 The old Ed Wallace service station (now Cotton Patch Antiques), the Vicki's Beauty Shop building and an adjoining laundromat building in Cave Spring have been sold at auction to Terry Caldwell, owner of the Joe Hill Lawnmower business in Cave Spring.
Auctioneer Lou Dempsey said the sale price was $78,000 and with the buyer's premium and other fees added, the total value of the deal was $86,800.
Caldwell plans to start renovations soon with the idea of expanding his Triangle Storage and Car Wash operation. Caldwell said Triangle Storage has 267 units and he simply needs to expand.
Caldwell said he plans to give Cotton Patch Antiques a little time to find another location, but that Vicki's Beauty Shop would be staying. He said he plans to do some renovations to that section of the property to improve the salon.
Sandra Lindsey, director of the Cave Spring Downtown Development Authority, said just about anything Caldwell does to the property will be an improvement. She said homeless people had used the vacant shell of a building from time to time and there wasn't even a bathroom in it. "Terry is such a great partner for anything we have going on," Lindsey said.
Caldwell bought out Joe Hill Lawnmower (his father-in-law) in 1993 and has been running it ever since, along with the storage and car wash businesses all from the lawnmower shop.
"I think if I ever decide to get out of the lawnmower business, this would be a good place to work during my retirement years," Caldwell said.
Musselwhite to head New Mexico Film Foundation
Longtime Berry College professor Harry Musselwhite has been tapped to serve as president of the Board of Directors of the New Mexico Film Foundation.
Musselwhite was the executive director of The Rome International Film Festival and president of the board of the Rome Area Council for the Arts.
Musselwhite is an accomplished opera singer, conductor, educator and more recently a screenwriter and filmmaker.
His film credits include "Martha Berry," "Heavenly," "Der Greis" and "Next of Kin."
He has just finished the pilot for a New Mexico-based reality show, "Horse People." He is currently shopping that project to networks and cable television executives.
Musselwhite was also recently finished an on-screen role in producer John Hancock's "The Looking Glass."
In a press release from the New Mexico Film Foundation, Executive Director Norris said, "We are looking forward to Harry's expertise and leadership to continue the vision of the New Mexico Film Foundation."
Musselwhite's wife, Laura Musselwhite, was named chief academic officer and dean of instruction at the University of New Mexico-Valencia campus in the summer of 2014. Her husband joined her in New Mexico at the end of Berry's 2014-15 academic year.
Aragon accounting service grows from home to office
Though she's been working diligently on her own at home for more than two years, Christie Melton is happy to now be at "home" in Aragon with her business All About Accounting Taxes and Bookkeeping services on Oak Street.
Melton said she doesn't mind being busy during tax season, which is her busiest time of year.
In fact, it's a love of keeping the books that makes her business great.
"I'm good at math and numbers, and graduated with a degree in accounting with a 4.0," she said. She has been in business for more than two years on her own.
Melton will provide a variety of services year round through her office at 87 Oak St., which includes handling payroll and payroll taxes, individual and business tax returns, monthly and quarterly bookkeeping services, and free e-filing for those who are hoping to get their tax returns back before the April 15 deadline.
All About Accounting Taxes and Bookkeeping is open Monday through Thursday from 9 a.m. to 3 p.m., all other times by appointment only. To make an appointment with Melton, contact her at 678-540-2422. Those interested in her services can also her e-mail her at Christie@aaatx.com.