Unemployment rates for November drop throughout region, Floyd County drops to 7.6 percent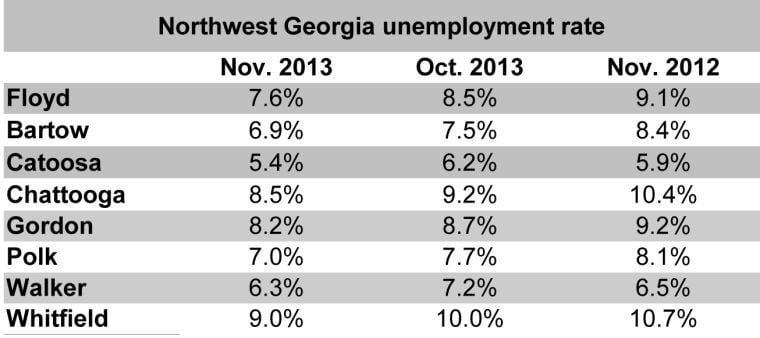 Santa Claus made one last stop, almost at the stroke of midnight on Christmas Day, when he delivered news to Rome and Floyd County that the unemployment rate was down to 7.6 percent in November.
That's a decrease from 8.5 percent in October and down from 9.1 percent in November of 2012.
As welcome as the lower rate is, the Georgia Department of Labor report shows that 823 fewer Floyd County residents are working than they were a year ago. But the local workforce is down by almost 1,700 people.
Bruce Jones, professor of economics at Georgia Highlands College, said there could be several explanations for the drop in workforce numbers: Baby Boomers have retired; people have gotten frustrated and moved out of the county; or people have simply stopped looking for work.
A combination of all three factors is likely in the Rome area, he said, but economists worry about the choice of the three scenarios because there's really no way of knowing which is the case.
"Let's hope they are people retiring," Jones said. "The great fear is how many of these people have given up and are not looking for a job anymore."
Jones said that under normal economic conditions there would be a significant number of people retiring or taking early retirement. However, the professor said there is evidence that more people have been holding on to their jobs during the economic downturn.
"That has implications for younger people trying to enter the job market," Jones said.
The overall unemployment rate for the 15-county Northwest Georgia region dropped to 7.2 percent in November from 7.9 percent in October. The rate was down from 8.4 percent in November of 2012.