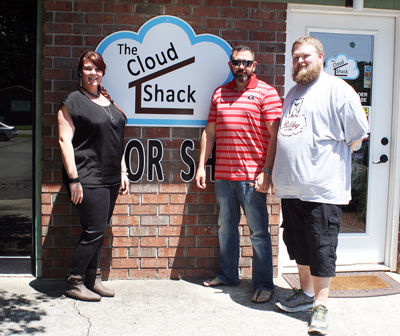 President Tony Cooper, Vice President David Peters and Manager Chip Shaw answer the questions for today's Small Business Snapshot.
What is the primary purpose for this business? To provide our community with a healthy tobacco alternative. In addition to the side effects of smoking such as various types of cancer, emphysema, respiratory and cardiovascular disease, you can rid yourself of the smell on your clothes and that nasty ashtray effect on all of your belongings.
What is the business background of the owners? The owners of The Cloud Shack have been in the tax preparation and software industry for numerous years. As vape aficionados, they recognized an opportunity to provide Rome with a service they weren't currently getting.
Why did you start this particular business? The effects of carbon monoxide are a major concern to the public, as are the other dangerous chemical compounds found in tobacco products. We offer the highest quality products on the market and are dedicated to offering Rome the best tobacco alternatives and support to help you on your journey towards a healthier lifestyle.
What makes your business unique? Our products and customer service is second to none. We have a very dedicated and knowledgeable staff that spend a lot of time testing new products and juices, and we only partner with companies that provide a certain level of excellence that we require for our family and friends.
What do you enjoy most about your chosen profession? It is a lot of fun. We get to meet a lot of people and witness firsthand family and friends that have been smokers for whatever amount of time, that chose to lead a healthier life and are able to do so with the help of our products and services. It definitely makes you feel good being a part of someone else's success story.
What has been the biggest challenge to overcome as small business owners? Spreading the word about who we are and what our mission is. We just want everyone to know that we are here to help!
Is there anything else you would like to share with our readers? We would like to invite everyone that is still smoking, dipping or chewing tobacco and thinks that they can't quit, to stop by and just have a conversation with a member of our team. We are really proud of the quality of customer service that we offer. We have the best quality products and accessories around, the cleanest juice and knowledgeable staff that can talk with you about the benefits of vaping or help get you all set-up on your journey towards a healthier and - hopefully - longer life!
Owners: Chip Shaw, David Peter, Tony Cooper, HHC, and MainStreet Financial Services
Location: 2400 Garden Lakes Blvd. Suite D, Rome, GA 30165
Hours: Monday through Friday: 11 a.m. to 9 p.m., Saturday 11 a.m. to 6 p.m. and Sunday noon to 5 p.m.